Applebee's All You Can Eat trio is back and just in time for summer.
We're talking Riblets, Chicken Tenders & Shrimp, all you can eat, which makes its triumphant return to Applebee's restaurants at all locations nationwide.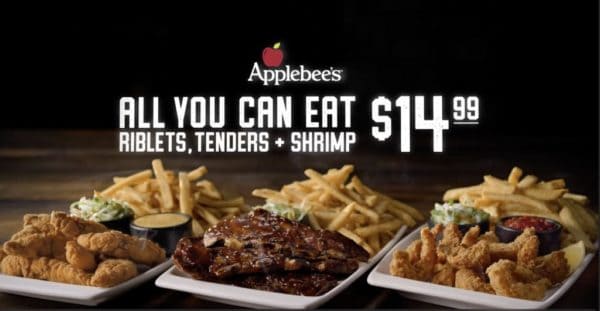 With prices starting at $14.99, these classic entrées are served with a side of coleslaw and classic fries, for a full mouth-watering meal.
But you have to hurry to your neighborhood Applebee's, as this offer is only available for a limited time.
"Summer is all about gatherings, and the limitlessness of All You Can Eat lets the good times at Applebee's keep on rolling," said Joel Yashinsky, chief marketing officer at Applebee's. "While you might get too much sun this summer, you can never have too much of a good thing like delicious Riblets, classic Chicken Tenders or tasty Double Crunch Shrimp."
Don't forget to choose your favorite sauce to top off the meal. You can pick from a sweet Honey BBQ sauce, Honey Dijon Mustard or Double Crunch Shrimp with a side of cocktail sauce.
If you can't decide which entrée to pick, then don't.
Why not mix and match your Riblets, Chicken Tenders or Shrimp with continuous refills to satisfy your "all you can eat" appetite.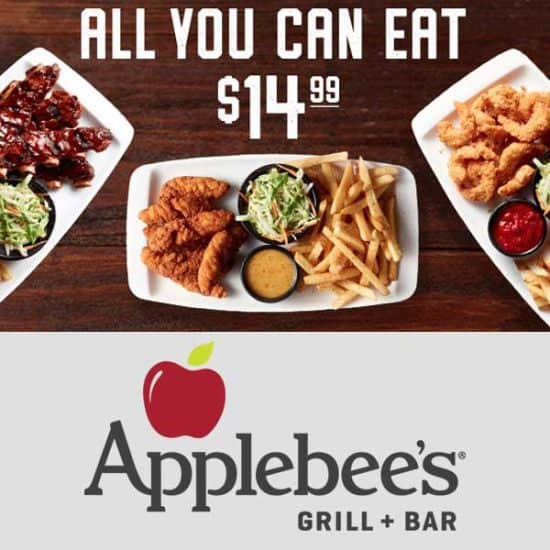 While the Applebee's All You Can Eat deal is available for dine-in only, you can also order online at www.applebees.com and take your meal home with you.
There are 4 Applebee's locations in the downriver area. You'll find your favorite Neighborhood Grill + Bar in Taylor, Woodhaven, Southgate, and Allen Park.
To find more Applebee's specials, view the online menu, visit their website or follow them on Facebook.
The All You Can Eat deal is available for a limited time and is valid per person. Price and participation may vary by location so please check with your local Applebee's to be sure you can get this special meal deal.