Applebee's gets back on the bowl action with the return of 3 favorite Irresist-a-Bowls.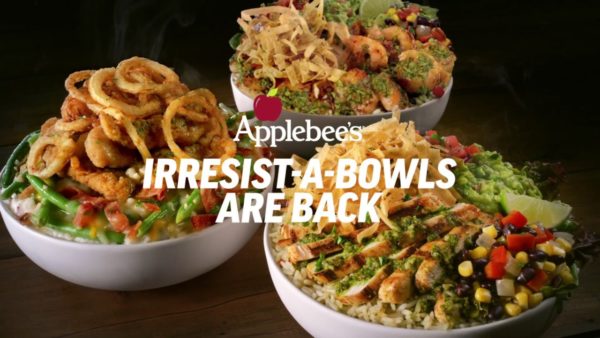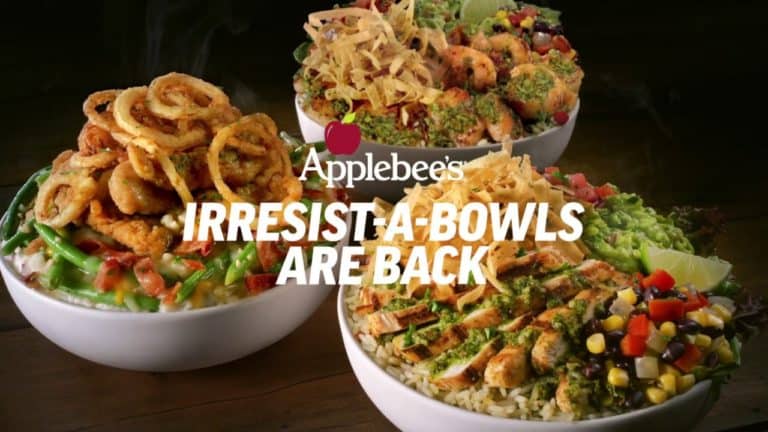 Irresist-A-Bowls are back at Applebee's in three returning fan-favorite varieties for a limited time.
Priced at $7.99 each, Irresist-A-Bowls return in the following three options:
Tex-Mex Lime-Grilled Shrimp Bowl features grilled shrimp, served over a bed of cilantro rice and salad, topped with pico de gallo, salsa, guacamole, and tortilla strips, all drizzled with chimichurri sauce.
Southwest Lime-Grilled Chicken Bowl includes your choice of chipotle chicken or steak served over a bed of salad and rice and topped with guac, salsa, pico de gallo, tortilla strips, and chimichurri sauce.
Homestyle Chicken Bowl features chicken tenders served over mashed potatoes and topped with gravy, crispy onions, and cheddar cheese.
Irresist-a-Bowls are available now at participating Applebee's restaurants nationwide for a limited time.
"We are excited to 'Welcome Back' guests with three great new Irresist-A-Bowls all featured at $7.99. Whether in our restaurants, through Applebee's To Go or by Delivery, all of our guests can enjoy these three delicious and abundant bowls," said Joel Yashinsky, chief marketing officer at Applebee's. "From the zing of our Southwest Chicken Bowl to the tasty sensations in our Tex Mex Shrimp Bowl or the delectable crunch of our Homestyle Chicken Bowl, there's something for everyone to enjoy."
For Applebee's fans who continue to opt for meals on-the-go, you can order many of your Applebee's favorites, including Irresist-A-Bowls, online at Applebees.com or via the Applebee's mobile app (iOS, Google) for Carside To Go® or Applebee's Delivery® where available.
The only thing standing between you and your "bowl goals" is a fork.