Applebee's celebrates summer 2021 with the arrival of two new savory salads alongside two new Star-Spangled Sips to help kick off early Fourth of July celebrations.
Applebee's new seasonal entree salads have been added to the menu and they look delicious.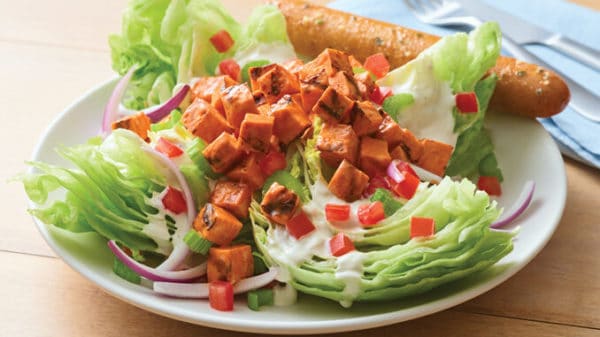 The two new flavor salads include:
Quesadilla Chicken Salad: Grilled chicken on a bed of fresh greens tossed with house-made cilantro ranch dressing and black bean corn salsa. The salad is finished with tortilla strips, house-made pico de gallo and served with a cheese quesadilla.
Buffalo Chicken Wedge Salad: A classic wedge salad taken up a notch with tomatoes, red onions, celery and topped with crispy boneless chicken tossed in Classic Buffalo sauce.
Participating Applebee's downriver are also pouring a pair of new $5 Mucho Cocktails: Blue Bahama Mama and Boom Berry Daiquiri.
Bahama Mama features Tito's Handmade Vodka, Malibu Coconut, blue curacao, and a proprietary blend of passion fruit, pineapple, cherry, and lime topped with lemon lime soda and garnished with gummy rings, while the new Boom Berry Daiquiri is a frozen Captain Morgan daiquiri mixed with strawberry and lime.
Time to head to your neighborhood grill to taste the two new chicken salads now.
Source: The news about Applebee's New Chicken Salads appeared first on Chew Boom.