Arby's is ringing the New Year with a refreshed 2 For $6 Everyday Value deal at participating locations.
The brand's ongoing 2 For $6 Everyday Value menu now includes any two of the following menu items for $6: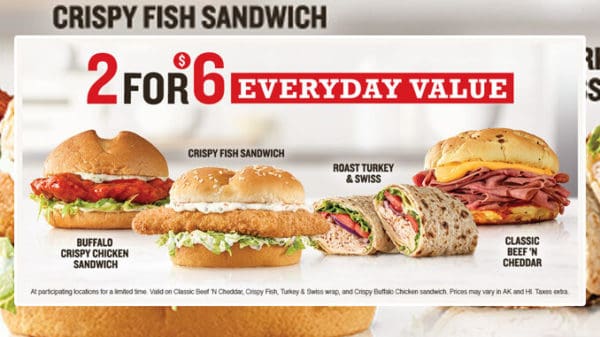 Buffalo Crispy Chicken Sandwich: A crispy, tender filet of buttermilk chicken coated in spicy buffalo sauce, creamy parmesan peppercorn ranch dressing, and shredded iceberg lettuce on a star cut bun.
Crispy Fish Sandwich: Crispy-fried wild-caught Alaskan Pollock, tartar sauce and iceberg lettuce on a sesame seed bun.
Roast Turkey & Swiss Wrap: Oven-roasted turkey, tomatoes, lettuce, thinly sliced red onions, Swiss cheese, mayo and spicy brown honey mustard in an artisan wrap.
Classic Beef 'n Cheddar Sandwich: Sliced roast beef, Cheddar cheese sauce, and zesty Red Ranch sauce on a toasted onion roll.
Arby's 2 for $6 Everyday Value menu can be found at participating locations nationwide for a limited time.
Source: The news about Arby's 2 For $6 Everyday Value Deal New Options was shared from Chew Boom.