A great new steakhouse has come to Woodhaven
Rare. Medium Rare. Well Done.
Any way you like it cooked, finding a great steak shouldn't be too hard.
The Downriver community is home to many great restaurants serving steaks, but Black Rock Bar & Grill is very different.
If a steak is grilled to perfection, it should almost melt in your mouth.
I don't know about you, but I don't often drench my steak in steak sauce. If it's grilled just right, you shouldn't bury the steak's natural flavor and seasonings with steak sauce, but that's just me.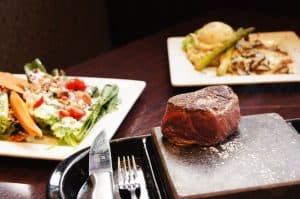 Now here's your chance to become your own cook.
Black Rock steakhouse is already a popular attraction in Novi, but now we have our very own Woodhaven location to enjoy.
If you're not familiar with Black Rock, here's a quick summary.
Sizzling Black Rock Steakhouse is an award winning steakhouse specializing in Certified Angus Beef steaks that are served on a sizzling stone at the customer's table creating a guest experience like no other. Customers cook their steaks at their table utilizing the 755 degree stone so that each steak is cooked just the way they like it and every bite is as hot and fresh as the first bite.
See the Black Rock downriver place listing on our directory for more great details and watch a video of the fun in action!
5 Star Reviews already? Yes!
If you have already dined at the new Black Rock restaurant or plan to go, we encourage you to leave your feedback and review on our directory. Your downriver neighbors really want to know what you think!
You can also visit Black Rock's Facebook page for more great news and reviews…