Blaze Pizza is launching the new Chipotle Ranch Chicken Pizza nationwide.
The Chipotle Ranch Chicken Pizza from Blaze Pizza features the chain's signature crust topped with grilled chicken, mozzarella cheese, feta, jalapeños, red peppers, olives, red onions, arugula, roasted corn, and a new house-made chipotle ranch dressing.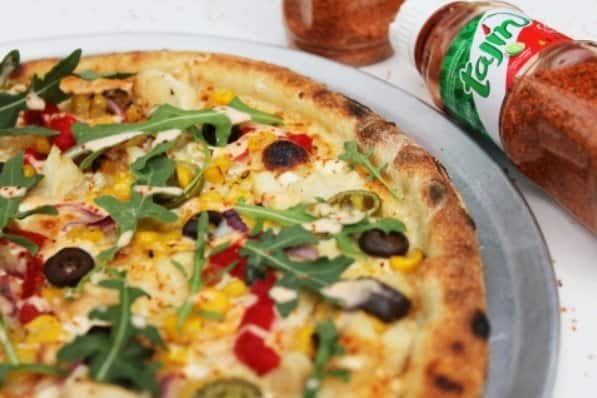 The pizza is finished with a topping of Tajín Clásico Seasoning, which consists of a classic Mexican combination of mild chili peppers, lime, and sea salt.
In addition to the new Mexican-inspired pizza, Tajín Clásico Seasoning is now available through June 9 for Blaze customers to enjoy on any custom-built artisanal pizza. From May 17through May 23, 2021, Blaze Reward members who customize any pizza with Tajín will automatically receive a reward for $2 off, eligible to be applied immediately within the Blaze app.
The new Chipotle Ranch Chicken Pizza is available now at participating Blaze Pizza restaurants throughout the U.S.
Get a Free Bottle of Tajín Clásico Seasoning
To commemorate the launch of the new partnership, as well as the Cinco de Mayo holiday, participating Blaze Pizza locations will be giving away more than 50,000 mini bottles of Tajín Clásico Seasoning at restaurants nationwide on May 5, 2021. Customers will receive a free mini bottle with any pizza order, while supplies last. Additionally, throughout the partnership, guests will also have the chance to receive exclusive Blaze Pizza x Tajín giveaways via their social media channels.
We only have one Blaze Pizza in Allen Park, but its worth the drive for delicious pizza.
Source: News about Blaze Pizza's new Chipotle Ranch Chicken Pizza appeared first on The Fast Food Post.