Burger King announces return of French Toast Sandwiches
Everyone who loves fast food knows that the king of drive-thru breakfasts is McDonald's. There are few things like the simple joy of an Egg McMuffin on your way to work. Competitors like Burger King are well aware of this and have been trying to play catch up for years.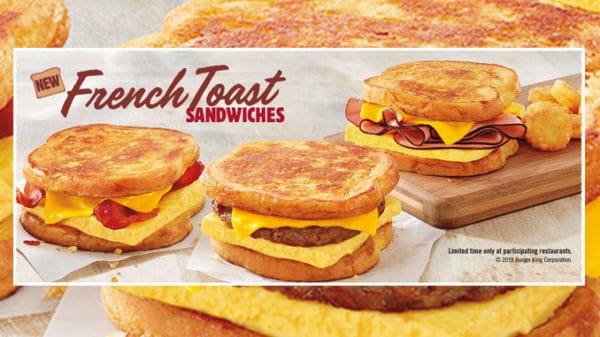 So every so often a rival fast food chain will come up with a great idea that grabs the public's attention and for a split second, they have a chance to beat McDonald's at their own game.
Such was the case when Burger King introduced their French Toast Sandwiches.
The French Toast Sandwich was a huge hit with the morning crowd. I mean, who wouldn't love an egg and your favorite breakfast meat between two pieces of french toast? Sign me up and gimme a bag of the things.
So of course, Burger King took them off their menu, relegating them to the scrap heap of great ideas that were gone too soon.
So imagine the shock and awe we experienced when Chewboom reported that not only is Burger King bringing back the French Toast Sandwich, but they are giving it a new twist by adding Maple Butter Sauce.
As before, the French Toast Sandwiches include a folded egg, a slice of American cheese and your choice of sausage, bacon or Black Forest Ham. The whole thing is then put between a pair of french toast rounds and topped with the aforementioned Maple Butter Sauce.
Word is that the sandwiches will officially make their return to Burger King menus everywhere starting March 25, however it is being reported that they are already available at some locations.
Head to your local Burger King downriver to discover if you are one of the lucky ones.
Will this be a permanent return or just Burger King teasing us only to remove them once again? We'll have to wait and see so enjoy them while you can.
Original source: https://guiltyeats.com/2021/03/21/burger-king-announces-return-french-toast-sandwiches/