Burger King launches new plant-based breakfast sandwich you're gonna love.
Burger King brings a healthier fan favorite to its breakfast menu by unveiling the new plant-based breakfast sandwich called the Impossible Croissan'wich.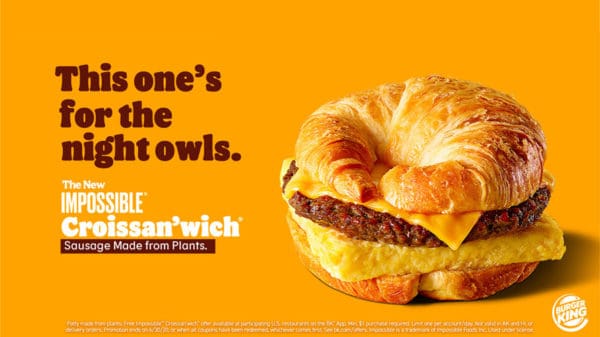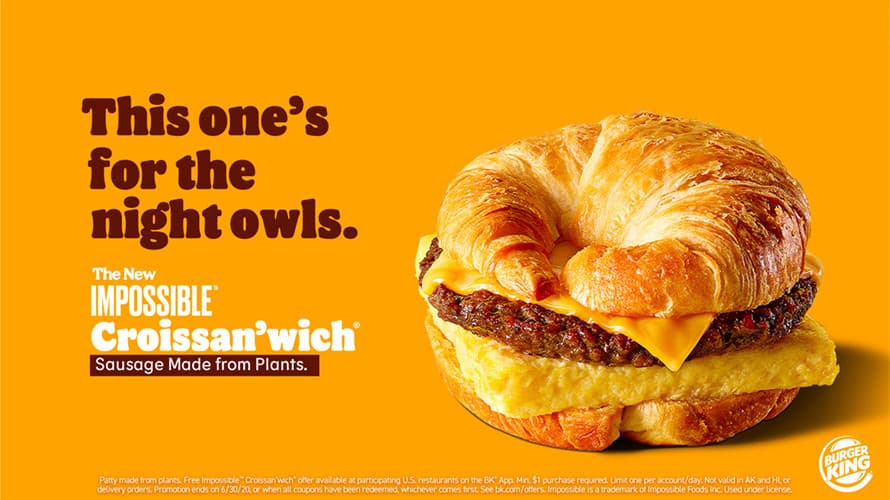 For all the night owls and breakfast lovers, you can sample the new non-meat sandwich but you better grab them fast. The new menu items will only be available through June 30th.
Wondering which sandwiches you can snag now? The two new Impossible options are:
The Impossible Croissan'wich – Layered onto a buttery, fluffy croissant is a plant-based breakfast patty topped with eggs and American cheese.
The Impossible Biscuit – On one of their classic buttermilk biscuits, you get a plant-based breakfast patty, eggs, and your choice of American cheese or no cheese.
You can choose to get your sandwiches on their own or as part of a breakfast meal. These meals come with your choice of drink, from coffee to orange juice, and an order of Burger King's hash browns.
Depending on where you are in the country, your Impossible Breakfast Sandwich will typically run you $4.99 or less. (In California, the Impossible Croissan'wich costs $4.99.)
Now that the Impossible Breakfast Sandwiches have been added to the Burger King menu, you will definitely want to give them a try. These will be available nationwide at participating stores.
Customers can claim a free Impossible Croissan'wich during late night hours on the fast-food chain's app, while supply lasts. At other times, the sandwich costs $3.99.
Original source: This news was published first on Guilty Eats.