After more than a year of grappling with the COVID-19 pandemic, it's more important than ever to appreciate our health care workers.
That's why Chipotle is offering free burritos to "healthcare heroes," a small way to recognize those who have been fighting on the front lines throughout the pandemic.
The burrito chain announced the news on Twitter, revealing it would give away 250,000 burritos on a first-come, first-served basis. In a message that likened the 250,000 burritos to "250,000 thank yous," the company linked to a website where health care workers can apply for a free entrée.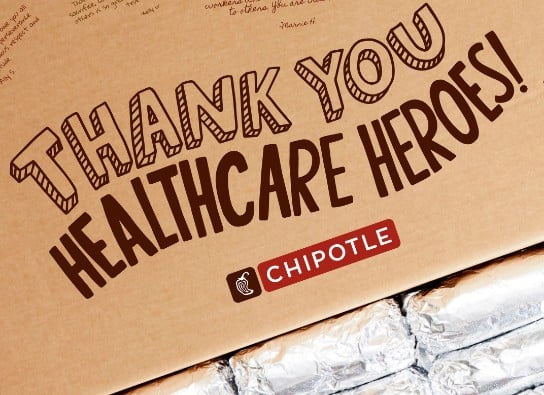 Free burritos are limited to one per person, and the company will be checking eligibility with ID.me. Health care workers will be able to sign up until supplies run out, and the code they receive will be redeemable until May 31.
If you aren't a health care worker yourself, Chipotle recommends passing the promotion along to someone who is. (It's certainly the least we can do after all they've done for us recently.)
Chipotle is thanking healthcare workers for being heroes through the pandemic.
In addition to the form where you can request your free burrito, the application page features messages thanking health care workers for their service. It's a nice way to celebrate doctors, nurses and other health care staff — and it comes just a few days before National Nurses Day on May 6.
"Given the events of the past year, we are once again bringing our fans together to show appreciation for the heroic efforts of the health care community," Chris Brandt, chief marketing officer at Chipotle, said in a company press release.
The company is also launching an egift card program that will match and donate 10 percent of purchases to the American Nurses Foundation.
Source: The post Chipotle is giving 250,000 free burritos to health care workers appeared first on Guilty Eats.