Dairy Queen Introduces the New Nestlé Drumstick Blizzard as July's Blizzard of the Month.
Dairy Queen's Nestle Drumstick Blizzard Treat features Nestle Drumstick pieces, chopped peanuts, and chocolate blended with the brand's signature vanilla soft serve.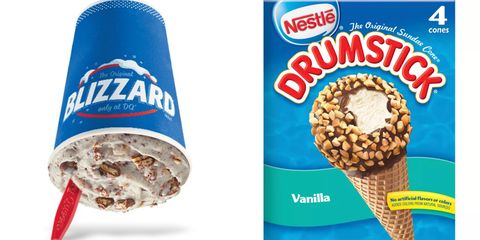 Yes, Dairy Queen has taken your very favorite summer ice cream truck treat and made it into a delicious Blizzard.
The new treat is essentially Nestle's classic Drumstick Sundae Cone but in blizzard form.
Nestle's Drumstick Sundae Cone features a crispy cone filled with vanilla frozen dairy dessert in the center and chocolate nub at the bottom. The cone features a chocolate coating, and it also comes topped with peanuts.
The Drumstick Blizzard Treat comes in mini, small, medium, and large sizes, and while prices may vary by location, my local DQ charges $3.39 for a small.
More from Dairy Queen:  Dairy Queen Has Two New Irresistable Blizzards
Nestle Drumstick Blizzard Treat (Small) Nutrition Facts
690 calories
300 calories from fat
33 grams of fat
22 grams of saturated fat
250 milligrams of sodium
82 grams of carbs
66 grams of sugar
16 grams of protein
As with most new Blizzard flavors that make it to the menu, this one may not be sticking around for too long, so we suggest you act quickly and go to your nearest downriver Dairy Queen in July.
When you do try the new Drumstick Blizzard at DQ, would you mind letting us know what you think?
Stop back here and drop a comment below or leave a review on your local Dairy Queen listing page on our site. Your feedback is valuable to the downriver community. Thank you.
You can find more details and additional nutritional info on the Nestle Drumstick Blizzard from DQ's website or follow them on social media for more news.
Source: This news wash shared from The Fast Food Post.