Del Taco gets all hot and saucy with the introduction of new Cholula Smothered Tamales.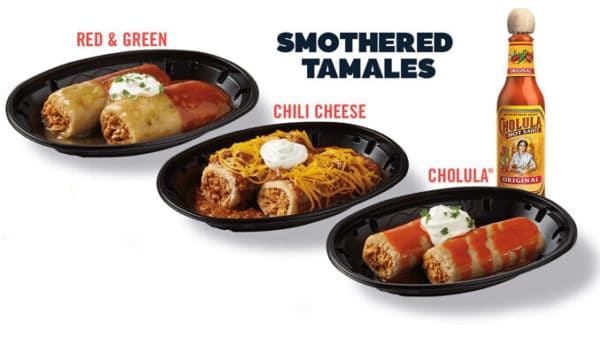 Arriving just in time for the 2020 holiday season, Cholula Smothered Tamales feature seasoned, shredded pork and fire-roasted salsa, surrounded by a layer of soft, stone-ground corn masa, all smothered in Cholula Hot Sauce with a dollop of sour cream and garnished with cilantro.
Del Taco's Smothered Tamales are also available in two additional varieties:
Red and Green – smothered in zesty red and tangy green sauce.
Chili Cheese – smothered in beef chili and freshly hand-grated cheddar cheese.
Smothered Tamales can be found daily at participating Del Taco locations nationwide from 10:00 a.m. to 12:00 a.m. through the 2020 holiday season.
This news about Del Taco's new Cholula Smothered Tamales appeared first on Chew Boom.