Denny's New Shareable Family Packs Now Available For Free Delivery And Takeout.
As families spend more time at home during the current health emergency, Denny's is offering new Shareable Family Packs to help families across America satisfy their Denny's cravings without leaving the house.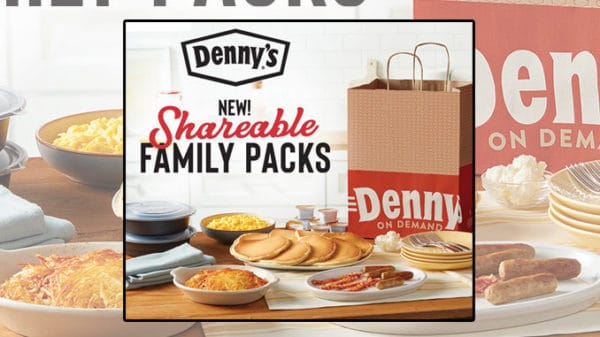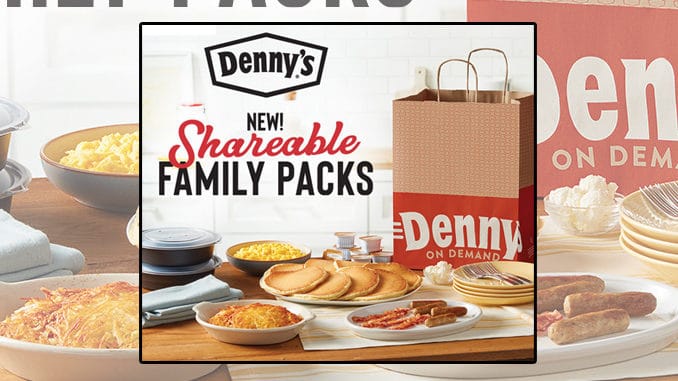 Available with free contact-less delivery or takeout, each Family Pack serves 4 to 5 people and features a variety of Denny's fan-favorites, including Denny's Grand Slam, Build-Your-Own Cheeseburger Pack and Premium Chicken Tenders Pack.
Priced between $24.99 and $28.99, Family Packs are available in the following options:
Grand Slam Pack: Eight buttermilk pancakes, eight scrambled eggs, four slices of savory bacon, four sausage links, and hearty hash browns, with an option to add toast to the pack.
Build Your Own Cheeseburger Pack: Cheeseburgers for four, made with four hand-pressed pure beef patties topped with American cheese, lettuce, tomatoes, red onions, pickles, mayo, ketchup, and mustard all sandwiched between a brioche bun. Each cheeseburger is served with a side of wavy-cut fries. You can of course customize your cheeseburger/burger with the toppings of your choice.
Premium Chicken Tenders Pack: Sixteen premium, golden-fried chicken tenderloins served with wavy-cut fries and BBQ and honey mustard sauces for dipping.
Side Packs (a la carte packs feed four): Savory sides to round out any meal pack include red-skinned mashed potatoes – with or without gravy – broccoli or sweet petite corn
Beverage Packs (pick any four beverages):
Signature diner blend coffee
Regular decaf coffee
Fresh brewed tea
Lemonade
Mango Lemonade
Strawberry Lemonade
Soft Drinks, including Coca-Cola, Diet Coke, Sprite, Dr. Pepper, Root Beer, Fanta and Hi-C
Family Packs are available at participating downriver Denny's and locations nationwide for takeout or delivery, every day including Easter Sunday. Prices may vary by location.
Source: This post appeared first on Chew Boom.