DQ is ready for St. Patrick's Day with these Minty treats.
When it comes to sweet treats, DQ knows what we want. And whether that means a perfectly crafted Blizzard or a creamy shake, there is something for every sweet tooth.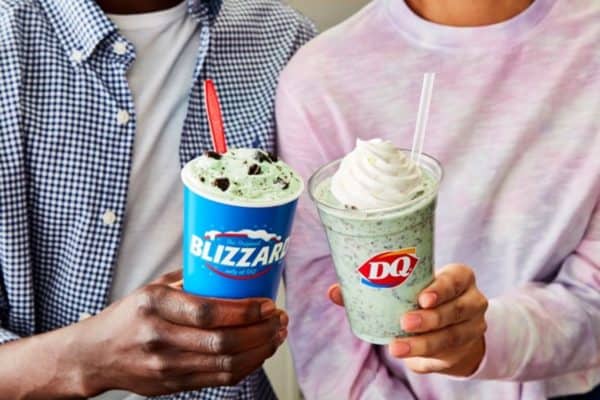 In time for St. Patrick's Day 2021, Dairy Queen is bringing back not one, but two minty treats! And of course, the first returning treat is the fan-favorite Mint OREO Blizzard Treat.
Whether you have had this Blizzard in the past or you are looking to try it for the first time, this minty creation is the perfect combination of colors and flavors. Starting with the classic DQ Vanilla Soft Serve, this Blizzard then combines crème de menthe topping and pieces of OREO cookies all blended together for a perfect frozen dessert.
Even if they had stopped with the Mint OREO Blizzard Treat for St. Patrick's Day, we would have been happy and satisfied. After all, every single bite is minty, chocolatey perfection.
But they didn't just stop with the return of their fan-favorite Blizzard. They are also giving us the creamy perfection that is the Mint Chip Shake.
For this creamy, minty shake, we start off with the classic DQ Vanilla Soft Serve once again. But for this confection it is all about adding in the creme de menthe, milk, and choco confetti chips for a perfectly blended mint shake.
Whether you want to sip your green or enjoy it with a spoon, DQ is here for us with two tasty treats perfect for our St. Patrick's Day snacking.
We love when fan-favorites return to the DQ menu and these two sweet treats are perfect for getting into the spirit of Spring.
Original source: https://guiltyeats.com/2021/03/02/dq-ready-st-patricks-day-minty-treats/