In an effort to make graduation more memorable for students, here's how 2020 graduates can score a free Jimmy John's sub!
Graduation is not what 2020 grads imagined it would be, but Jimmy John's is doing what they can by giving thousands of free Jimmy John's sandwiches to 2,020 grads!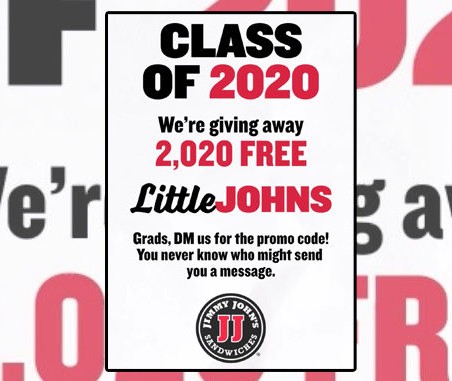 Joining various other fast food joints, restaurants, and other businesses in their mission to help brighten up graduation for 2020 grads, is Jimmy John's.
The iconic sub sandwich joint is giving away 2,020 unique Little John promo codes via Instagram which you can redeem for a free Jimmy John's sub.
What do you need to do? It's simple, but you gotta hurry!
All you need to do is slip into Jimmy John's DM's on Instagram and be one of the first 2,020 to message the account. The Jimmy John's account should reply with a unique promo code for you to use if you are one of the firsts to send a message.
You will also find a surprise congratulatory video from rapper Lil Jon! Talk about a cherry on top!
Why Lil Jon? Well, because he is the perfect partner to team up with Jimmy John's Little John, which is a skinny, mini version of an Original Jimmy John's Sandwich.
To redeem this code, simply go online to place a Jimmy John's order or through the app.
Head on over to Jimmy John's Instagram to send your DM!
If you miss being one of the first, 2,020 grads to message for some free Jimmy John's, don't worry!
Not everyone can be as Freaky Fast as the sandwich restaurant. 2020 grads are still able to sign up for Freaky Fast rewards, which can earn them a free 8-inch sandwich after just your first order!
Source: This news first appeared first on Guilty Eats.