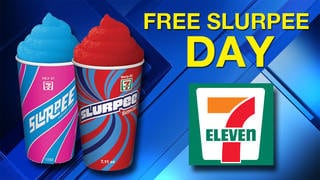 There ain't no party like a Slurpee party!
Everyone needs to chill out on these hot days and nothing is better at quenching your thirst than a Slurpee, except when it's FREE!
7-Eleven is celebrating it's annual Slurpee Day by giving away FREE Slurpee's between 11 am and 7 pm on 7/11.
Each year, over 7 million gallons of Slurpees are consumed worldwide. For comparison, that's enough sugary substance to fill TWELVE Olympic-size swimming pools.
We all love Slurpees and you should be familiar with the annual Free Slurpee Day which falls on July 11 each year.
The Slurpee was invented by accident back in the late 1950's and originally was called ICEE. It was changed later to the more familiar well-known drink that we know and love. The first National Free Slurpee Day kicked off its celebration for 7-Eleven's 75th birthday.
The now annual tradition allows everyone to stop by a participating 7-Eleven on July 11, between the hours of 11am and 7pm, and receive a free, 12 oz Slurpee, while supplies last so get there early.
7-11 has over 300 diverse flavors of Slurpee, from classics such as Pina Colada to more unique and fun flavors like Candy Cane. For their 50th birthday celebration, 7-11 revealed the Birthday Cake Slurpee which was a big hit.
Each year, 7-Eleven introduces a new group of flavors for loyal Slurpee enthusiasts, yet still keeps their traditional flavors on hand, like Wild Cherry and Coca-Cola.
Grab the kids and head to your local 7-Eleven to take part in the free slurpee celebration and help spread the word about the free Slurpee deal on social media by using the hashtag #SlurpeeDay.