Penn Station East Coast Subs will celebrate National French Fry Day Saturday, July 13 by giving away the brand's fries. Customers will receive a free small fresh-cut fry with any sandwich purchase.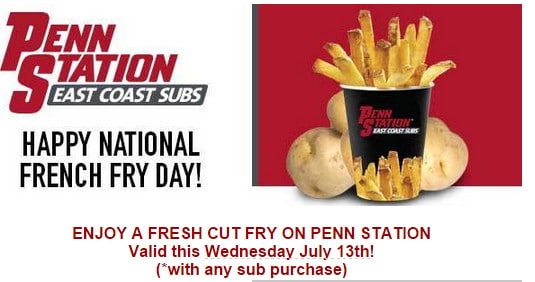 "National French Fry Day is a fun way to reward customers each year with a free small fresh-cut fry," says Penn Station President Craig Dunaway. "Our made-to-order fries are one of our signature items, so we love to celebrate National French Fry Day. It's also a great way to thank our loyal customers."
Both the Penn Station locations in Woodhaven and Taylor are participating in Free French Fry Day. No coupon is required.
Penn Station was founded in Cincinnati, Ohio in 1985. The restaurant chain serves an assortment of hot and cold deli sandwiches, wraps, and salads. Penn Station has sub shops in Ohio, Georgia, Illinois, Indiana, Kansas, Kentucky, Michigan, Missouri, North Carolina, Pennsylvania, South Carolina, Tennessee, Texas, Virginia, and West Virginia.