6 Quick Steps to Creating a Facebook Page for your Restaurant

Behind practically every effective eatery is a strong internet advertising method.
Without an effective and modern marketing strategy, you most certainly will fail at bringing in new customers.
A staple among the most popular forms of promotion is to setup an online presence for your restaurant, which at the forefront should be Facebook.
Other social media places that your eatery ought to be focusing on includes Twitter, Instagram, Snapchat, YouTube and others. Today we'll be discussing Facebook specifically and how to set up and improve your restaurant's business page.
Follow these steps to set up and optimize a Facebook page for your restaurant. In doing so, you'll be opening up your restaurant to a whole new set of customers.
Step 1: Sign Up For Facebook
Obviously, the first step is to sign up for a Facebook page if you don't have one already (skip to Step 2 if you do). Go to Facebook and create a personal account for yourself, then you can create a professional page for your restaurant or bar. You will be required to enter your full name, email address, create a password and add your birthday, then click 'Sign Up' to create your profile.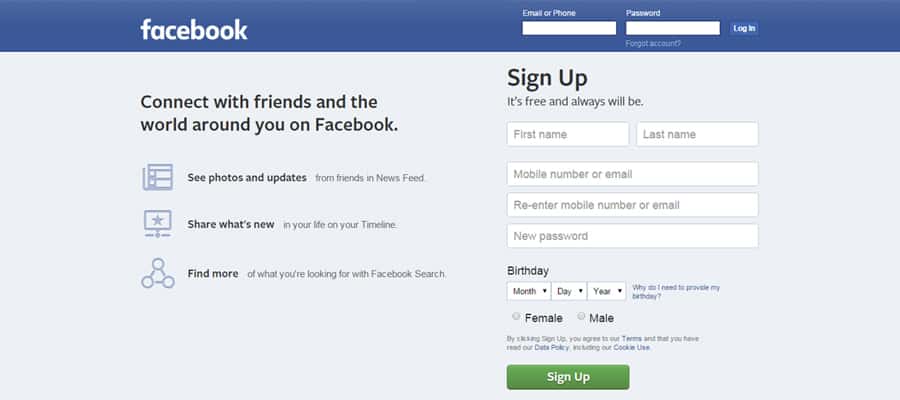 Step 2: Create A New Business Page
Once you have Step 1 completed, you can now create a Facebook business page for your restaurant. On the left side menu column, click on PAGES, then in the top right menu click 'Create Page'. From here, you want to select 'Local Business or Place'. Next, you will enter a category and all the contact information for your restaurant, such as the name, address and phone number.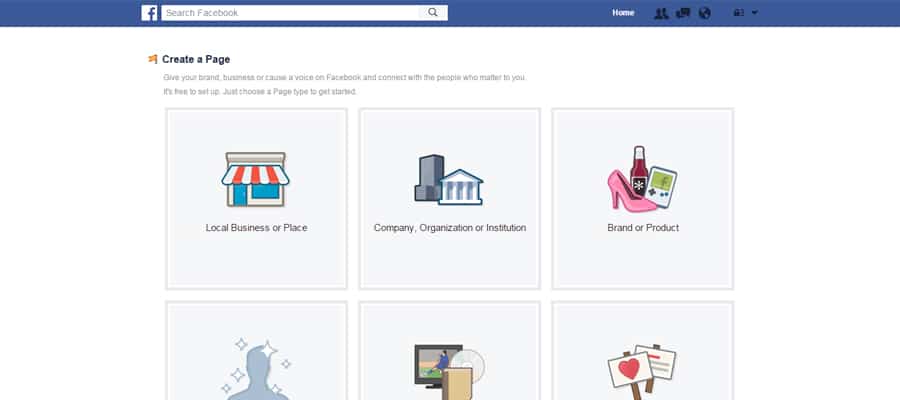 Step 3: Add More Details About Your Restaurant
In the next section, you can add more categories for your bar or restaurant, enter a short and long description and add a link to your website. You should also upload your business logo to use as your page's profile picture then choose your target audience. You want to be as descriptive as you can here. Add information that your customers will be searching for so they can see what you have to offer. Of course, be sure to 'Save Info' before you continue to the next section. You can always skip this step if you plan to come back and complete this area another day.
Step 4: Custom Design Your Page
This is where your page should stand out from the competition. You need to have an original profile picture and a cover photo that represents your business brand. Your Facebook profile picture should be uploaded with dimensions of 180 x 180 pixels in size, then Facebook will adjust it slightly to properly fit. Your cover photo will be much larger. Generally, the image needs to be 828 x 315 pixels. You can upload a larger photo, then adjust it, move it around and crop it to your preference. Just be sure to add a cover photo that will show off your restaurant and logo, or feature your most delicious dish or popular food item in the best way imaginable. Its always a good rule of thumb to change your cover image and profile pictures periodically to keep your page fresh and never stale.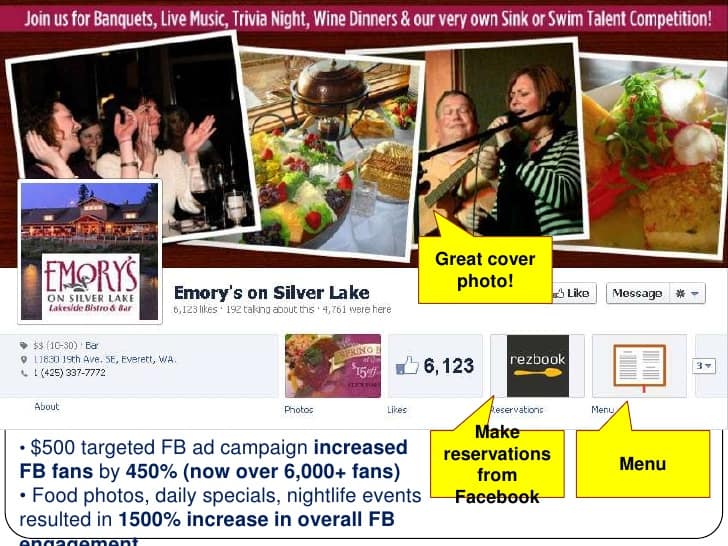 It is also recommended that you add customized tabs to your restaurants Facebook page so you can display more info such as links to your Twitter/Instagram feeds, Daily food specials or a contest or giveaway event. Read through the dedicated Tab Tutorial instructions on Facebook in order to know how to properly set the tab sections for your page.
Step 5: Choose Your Username
Next comes the time of the setup process to choose your restaurant's username. Under your profile picture and name you will see the link "Create Page @Username". Choose a username to match the name of your restaurant, or closely reflects your brand. If by chance your restaurant's name has already been taken, you could include your city or town to the name to make it unique. Each username created becomes a dedicated custom URL on Facebook for the business. This helps your customers find your restaurant easier when searching on Facebook or even making a general search on Google.
Step 6: Add Content & Update Often
Begin by adding fun, timely and relevant content and images about your restaurant. Examples are daily or weekly food and drink specials you are offering, pictures and details of any new menu items you have, snapshots of your chefs in action or wait staff,  special promotions or giveaway events you are holding, and anything else you feel your customers and future customers will find intriguing. Be sure to add a link back to your website in some of your posts. As a page owner, you will also be able to see the post analytics each time you add new content, so you can monitor how many people saw the content, as well as the interaction and engagement of your fans by the number of clicks and shares.
The post frequency should be at least once a day, or ocassionaly more often if your posts are timely. You don't want to overwhelm your fans by posting too much, other wise they might get annoyed and possibly unfriend your page, and that becomes counter-productive.
At Buffer, we love to see new stats and research about how to best share to social media and drive engagement. And as a brand on social media ourselves, we know just how challenging it can be to post engaging content across multiple channels.
Its always best to check in on the pages of your competition to see what they're up to so you can emulate or improve upon the success of others. The most important aspect is to make your page fun and honest. Treat your fans on Facebook the same way you would if they were at your restaurant in person. Keep the tone casual but professional and you will easily prosper.
Read more articles from our Restaurant Marketing section so you can gain more tips and tricks to help drive revenue for your restaurant.

If you don't have the time or staff to handle the marketing needs yourself, why not hire Splattered Paint Marketing, a downriver marketing agency that can turn your marketing strategy on full blast.

Join our weekly newsletter
so you won't miss a bite…
[mailpoet_form id="1″]