Where's the beef?  It's right here…
If you can chow down a 10-pound Monster Burger, you can win.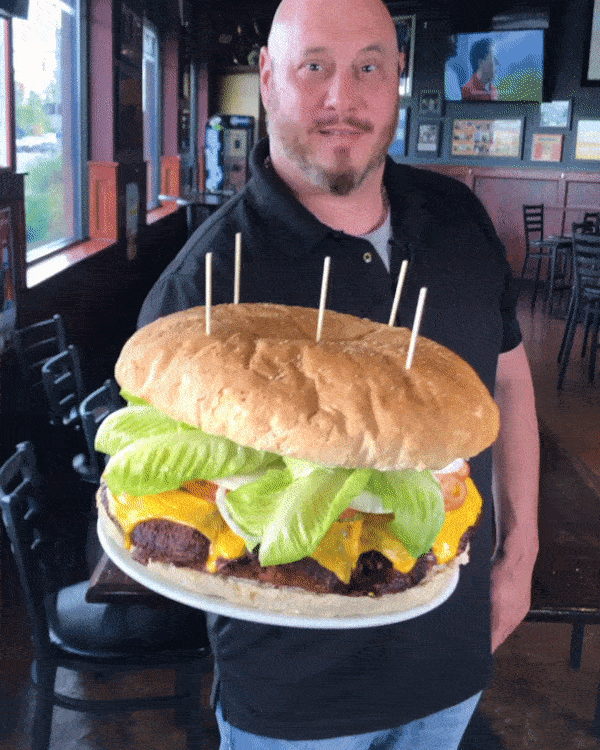 Mallie's Sports Grill & Bar in Southgate serves up another challenge to its customers for a chance to win cash and prizes.
Here's the deal:
Simply eat a 10 pound burger in two hours and they'll give you cash, a T-shirt and more.
Now we must tell you that first you need to pay $40 for the burger, but if you can eat it all in the 2 hour window, you win!
Mallie's has been in Southgate for over 14 years, has had multiple food challenges and currently holds the Guinness World Record for the biggest burger, weighing 1,793 pounds, which they won on July 9, 2017.
Around 1,400 people have attempted to gulp down the gigantic 10 pound burger in their latest contest, and only 12 have succeeded so far.
Are you up for the challenge?
If you can chow down the entire burger, here is what you'll win:
Mallie's will cover your $40 expense for the burger, give you a $100 cash prize, a T-shirt and, of course, your picture will be displayed on their Wall of Fame along with the other burger-munching winners.
The funniest thing about people that are attempting the 10-pound Monster Burger Challenge is, it's the small person that you wouldn't expect to even come close to doing it that actually does it …  – Steve Mallie, owner of Mallie's Sports Grill & Bar
READY…SET…CHEW…
You can read more about the Mallie's promotion as sourced by FREEP…
So you're at your table inside Mallie's Sports Grill & Bar in Southgate, and you see the kitchen doors swing open. Owner Steve Mallie is coming at you with a culinary challenge of a lifetime. His humongous 10-pound Monster Burger with all the fixings stares back at you knowing it has already won.