With St. Patrick's Day just around the corner, green food is everywhere.
Whether you're looking for green beer, green cupcakes, or a green shake, every restaurant and grocery store has brought out their festive food and drinks in time for March 17. Krispy Kreme is no exception.
Everyone's favorite donut shop is now offering a whole line of new green donuts they're calling their Luck O' the Doughnuts collection.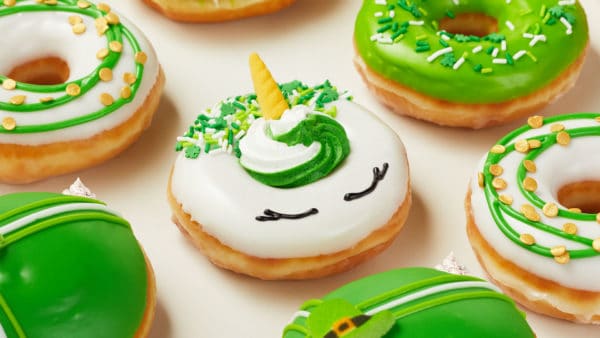 The collection includes the Lucky Gold Coin donut, Lucky Sprinkles donut, Lucky Unicorn donut, and Lucky Leprechaun donut.
Oh and don't forget the classic glazed! Except now they are glazed with green frosting instead of the usual white.
Let's breakdown these new flavors. The Lucky Gold Coin donut consists of the Original glazed donut that's then dipped in white icing, swirled with green icing, and topped with little gold coin sprinkles.
Krispy Kreme offering four new St. Patrick's Day donuts and one old favorite
The Lucky Sprinkles donut is another Original glazed but this one is dipped in green icing and topped with a "shamrock sprinkle blend." The Lucky Unicorn donut (my favorite) starts with an Original Kreme-filled glazed donut that is then dipped in white icing and made to look like a little unicorn using green and black icing, and sprinkles.
The final new donut is the Lucky Leprechaun which consists of a donut filled with Cookies and Kreme that is dipped in green icing, decorated with plaid icing stripes, and topped with a leprechaun hat made of sugar.
Clearly, Krispy Kreme takes St. Patrick's Day very seriously. They brought out all the stops with these new festive green donuts. The newly decorated donuts became available on March 11 and the green glazes Original donuts will be available by the dozen on March 16 and 17.
Whichever flavor your choose, make sure to get them quickly. They'll probably be gone after St. Patrick's Day.
Original source: https://guiltyeats.com/2021/03/12/krispy-kreme-launches-green-donuts-just-in-time-for-st-patricks-day/