Logan's Roadhouse is celebrating the arrival of BBQ season with the introduction of new Loaded Pulled Pork Waffle Fries, and more.
Available as part of Logan's all-American menu, new Waffle Fries feature crispy, golden waffle fries sprinkled with salt and pepper or seasoned with Logan's exclusive Smokehouse BBQ blend of spices.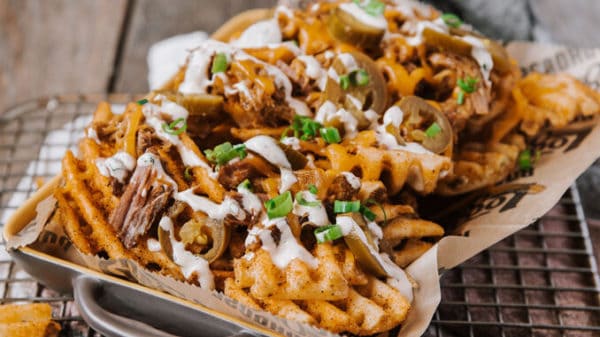 Waffle Fries can be enjoyed as a side, or as part of Logan's new Loaded Pulled Pork Waffle Fries, made with smokehouse BBQ seasoned waffle fries stacked with pulled pork, cheddar cheese, jalapeños, green onions and drizzled with Roadhouse Ranch.
Additionally, Logan's 2021 Summer Menu also features new BBQ-themed sides like Cole Slaw, Okra, BBQ Baked beans and BBQ Brisket Rice and new Boneless Wings served with your choice of Teriyaki, Buffalo, Chipotle or BBQ sauce.
Logan's Summer Menu is available for a limited time at participating locations for dine-in or carryout.
Source: The post Logan's Roadhouse Introduces New Loaded Pulled Pork Waffle Fries appeared first on Chew Boom.