Are you a Long John fish fan?
It's time to go fishing for a feast.
Well Long John Silver's has brought back it's $5 Reel Deal Box.
Now you can get your fish fix without fracturing your finances.
According to the official news from Long John Silver's website, you can choose between 3 of Long John's classic hand-battered and lightly fried fish entrees that come included with perfectly crisp natural fries, hushpuppies (a customer favorite), and a medium drink. You even get a delicious Hersey's chocolate-chip cookie with the meal.
"Our crispy, golden battered fish and chicken is the ultimate fall comfort food, and $5 Reel Deal Box returns just in time to help our guests start saving for the upcoming holidays" said Marilyn Nicholson, Vice President of Marketing, Media and Promotions. "Our customers asked, and we answered."
One fish. Two fish. Red fish. Blue fish.
Okay, so not exactly a Dr. Seuss promotion, but you get my message.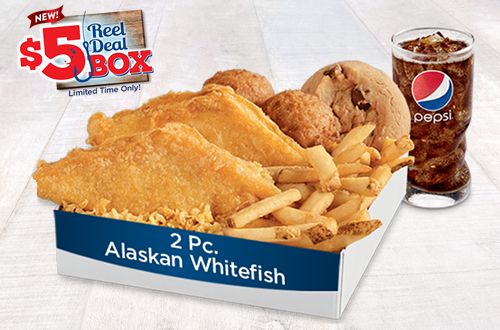 Take your pick from One fish and 3 shrimp, Two piece Alaskan Whitefish, or Two piece chicken tenders.
You get the whole kit and kaboodle, or fish and fries combo deal for that matter, for a measly price of $5.
This is a limited time promotion by Long John's and will only be available through November 27th, 2016.
So what are you waiting for?
Find your nearest Long John Silver's location in the downriver area now and  get your fish fix finished!
Hi YouTubers! I review Long John Silver's® New Reel Deal Box! Share-Like-Fave-Subscribe & Thumbs-Up! ———————————————————————- Long John Silver's® New Reel Deal Box REVIEW! If you like this review, Subscribe! JOEY'S WORLD TOUR: https://www.youtube.com/user/JoeysWorldTour Joeys World Tour/Facebook: http://www.facebook.com/JoeysWorldTour Joey's Twitter: http://www.Twitter.com/joeysworldtour Joey's T-Shirts!
For more great fish news, why not follow Long John Silver's on Twitter, Facebook, or Instagram.