McDonald's celebrates the 50th anniversary of its popular Shamrock Shake by adding it to menus nationwide.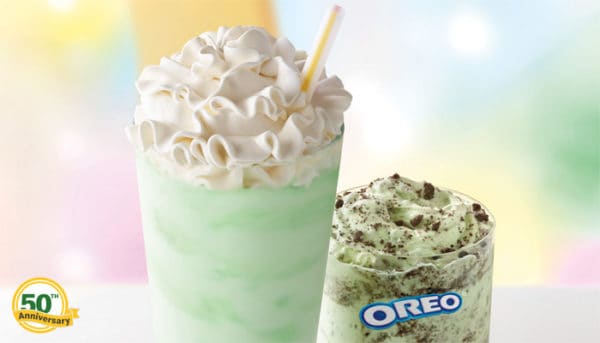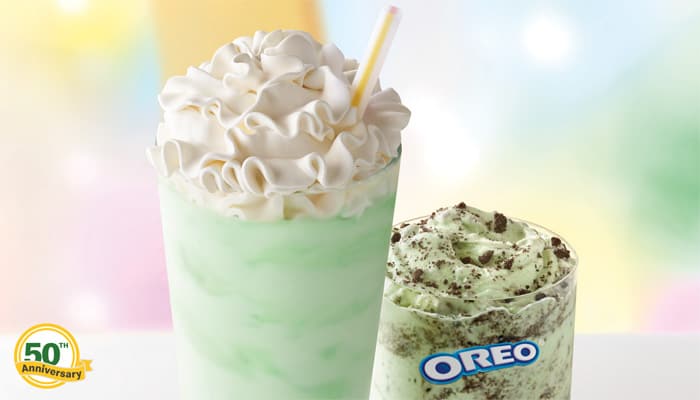 McDonald's is celebrating 50 years of the iconic Shamrock Shake which will be available in all participating locations on February 19 for a limited time, along with the new OREO Shamrock McFlurry.
"We've been serving the iconic, cult-favorite Shamrock Shake for 50 years and it's become synonymous with McDonald's ever since," McDonald's Vice President Linda VanGosen said.
To celebrate, McDonald's is taking the Shamrock Shake nationwide for the first time since 2017 and introducing the new OREO® Shamrock McFlurry® for a limited time. This year, customers have two different ways to enjoy the craveable Shamrock taste they know and love — how lucky is that?
The Shamrock Shake features creamy, vanilla soft serve blended with our unmistakable Shamrock flavor and topped with a whipped topping for a delicious minty treat.
The new OREO Shamrock McFlurry is a twist on a fan-favorite, featuring creamy, vanilla soft serve with our unmistakable Shamrock flavor and OREO cookie pieces blended throughout for a delicious minty-chocolaty dessert that super fans and new fans alike can enjoy.
 
The Shamrock Shake was created by Hal Rosen, a Connecticut McDonald's owner and operator who made the mint shake for St. Patrick's Day. It soon caught on around the country.
"Every year customers eagerly await the return of the Shamrock Shake — and over the past five decades, getting a sip of this green legend has become a seasonal tradition for many," said McDonald's Archivist Mike Bullington. "The shake's unique history and wide spread passion for this menu item has qualified the Shamrock Shake as a beloved cultural icon. We feel lucky to have such dedicated Shamrock fanatics, and hope to continue the legacy of this legendary treat for many more years to come."
The anniversary fun doesn't stop here. Shamrock lovers are in luck, as McDonalds will be revealing even more ways to get in on the golden celebration of the Shamrock Shake throughout the season.
Follow McD's on social for more great news!
Source:  McDonald's press release.