McDonald's is making the holidays magical with the return of the McRib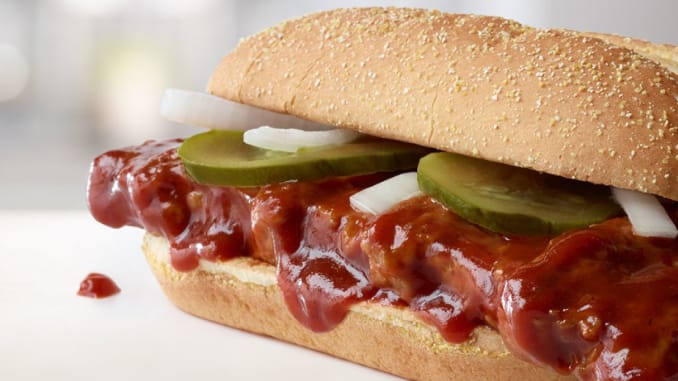 If there is one limited edition item on the McDonald's menu that has fans always requesting a come back, it would have to be the McRib! And just in time for the holidays, McDonald's is making dreams come true with the return of this popular sandwich.
Usually when McDonald's brings the McRib back to the menu, it is not only for a limited time, but also available in select locations (very select!). But for the first time since 2012, they have decided to bring this sandwich back on a nationwide scale! This means that no matter where you are in the United States, if you love this sandwich, you are in luck.
The McRib returns to McDonald's on Dec. 2
In a press release from McDonald's, the fast food giant explained that once again, this sandwich will only be available for a limited time, but it will be available for more people to enjoy.
If you aren't familiar with the McRib, or maybe need a refresher on what it is, this sandwich features a boneless pork patty on a hoagie style roll. The meat is covered in a tangy barbecue sauce (I'm pretty sure it is the same sauce we dip or nuggets in) and then topped with pickles and strips of onions.
However, with the arrival of the McRib on Dec. 2, we won't have to be jealous for long. That being said, I would plan ahead if you want to get your hands on this one, as we don't know how long it will be sticking around.
Source: The news about McDonald's McRib making a comeback appeared first on Guilty Eats.