Governor Gretchen Whitmer has ordered the shut down of the dine-in services for all bars and restaurants in Michigan amid the COVID-19 outbreak.
The executive order went into effect at 3 p.m. Monday, March 16.
Carryout and delivery services will still be available, along with window service, walk-up service or drive-up service. We have a long list of restaurants downriver that are still providing service via carryout and delivery.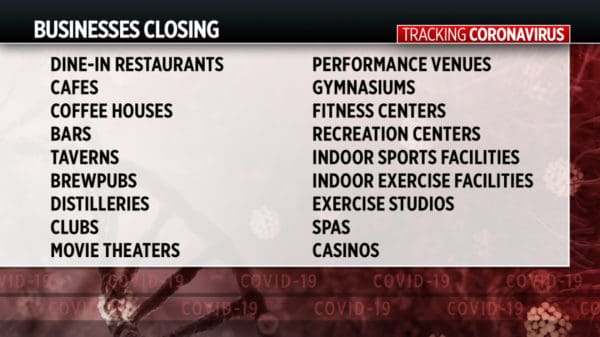 The order will close down restaurants, cafes, coffee houses, bars, taverns, brewpubs, distilleries, clubs, movie theaters, indoor and outdoor performance venues, gymnasiums, fitness centers, recreation centers, indoor sports facilities, indoor exercise facilities, exercise studios, spas and casinos. Salons can stay open, but if a location is a salon and spa, the spa will still have to close.
Per the order, restaurants may allow five people inside at a time to pick up orders, as long as they stay six feet apart from each other.
The restrictions will remain in place until Monday, March 30.
The executive order does not apply to: office buildings, grocery stores, markets, food pantries, pharmacies, drug stores, and providers of medical equipment and supplies, health care facilities, residential care facilities, congregate care facilities, and juvenile justice facilities, warehouse and distribution centers, and industrial and manufacturing facilities.
Read more on this story from WXYZ news...