MOD's Diego Pizza features a red sauce base and comes topped with savory chorizo sausage, sliced red onion, house-roasted summer corn, crumbled feta and shredded mozzarella cheese and finished with a light topping of fresh cilantro.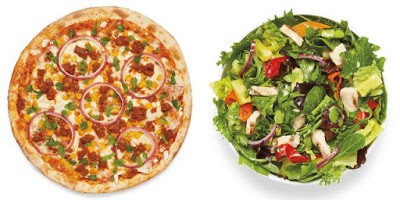 The Sweet Heat Pineapple Salad consists of a mix of romaine lettuce and spring greens topped with Mama Lil's Sweet Hot Peppas, grilled chicken, pineapple, sliced red onion, and fresh cilantro, all tossed in a sweet honey lime dressing.
These new items, as well as all MOD favorites are available for dine in, takeout, curbside pickup, and delivery via online order or through the MOD Pizza app.
Prices start around $6.87 for both the mini sizes of the pizza and salad ($8.87 for the regular entree size).
You can find the Diego pizza and the Sweet Heat Pineapple Salad at participating locations nationwide through September 27, 2020.
Diego Pizza (MOD-size) Nutrition Facts
1000 calories
370 calories from fat
42 grams of fat
18 grams of saturated fat
2190 milligrams of sodium
109 grams of carbs
9 grams of sugar
44 grams of protein
Sweet Heat Pineapple Salad (MOD-size) Nutrition Facts
370 calories
170 calories from fat
19 grams of fat
3 grams of saturated fat
590 milligrams of sodium
29 grams of carbs
24 grams of sugar
16 grams of protein