Dunkin' Donuts delivering piping hot news…
Beginning today, participating DD restaurants nationwide will now serve OREO® flavored Hot Chocolate.
This new hot and delicious beverage has the sweet scrumptious flavors of cookies and creme we have all come to love. So now you don't need to dunk your cookies, you can just drink them!
The OREO brand flavored Hot Chocolate will be available for a limited time over the fall and winter, as part of Dunkin' Donuts new lineup of hot seasonal beverages, including the appropriately titled Dunkaccino®.
Have You Tried a Dunkaccino Yet?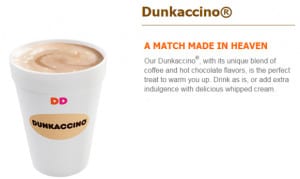 Stop by your nearest Dunkin' Donuts in the downriver area and try one of these tempting hot drinks to warm your soul when the weather turns cold, or anytime you just want a hot flavored dessert drink.
You should also try the Salted Caramel or Pumpkin flavored drinks, which are very tasty as well.
Dunkin' Donuts announced the offer in this press release recently. Visit their website or Facebook page for more great news and special offers.