Baskin-Robbins scoops new Surprise Party ice cream as the brand's Flavor of the Month for June 2020.
The newest seasonal flavor features a colorful pink and blue cake batter flavored ice cream base, swirled with yellow buttercream-flavored ice cream.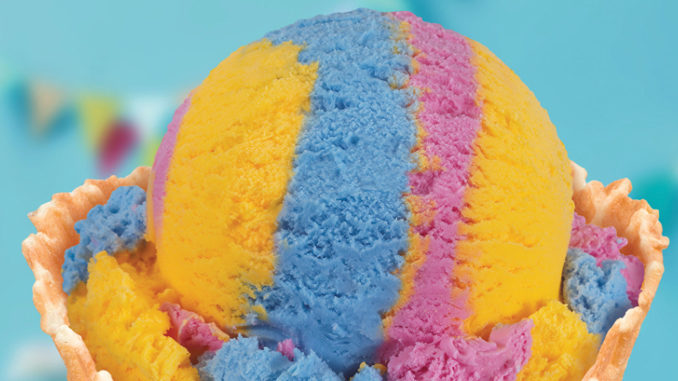 In addition to the new Surprise Party ice cream flavor, Baskin-Robbins is offering a surprise for Dads this Farmer's Day with the introduction of new Dad Joke Cakes.
The new SomeEcards branded Dad Joke Cakes can be customized with Dad's favorite ice cream flavor and your very own meme, or choose one of three ready-to-go designs:
Dad Jokes Cake – Money Joke: "Dad, I love you and not just because I need to borrow twenty dollars".
Dad Jokes Cake – Grill Joke: "Dad, sorry we made you grill on your own holiday".
Dad Jokes Cake – Gift Joke: "You are going to love the Father's Day gift Mom bought and put our names on".
In addition to Dad Joke Cakes, Baskin-Robbins is also offering its perennial fan-favorite Cold One Cake.
Don't forget… Father's Day is celebrated on Sunday, June 21 this year.
Source: This news appeared first on Chew Boom.