Get Your Coupons for November Here…
We all love to eat out.
Grabbing fast food on the run is a modern convenience, and paying less than full price at our favorite places is the cherry on top.
Black Friday and Cyber Monday Deals:
Black Angus Steakhouse has an all-day happy hour on Black Friday weekend.  More details in This Announcement from Black Angus. Good through Sunday, November 27, 2016.
At Bob Evans get 30% off your check with a Black Friday coupon good after 11 am today through Monday, November 28, 2016. CLICK HERE for your coupon. Print the coupon or show on your phone to get 30% off your entire purchase.  Good only after 11 am. Good for dine-in or takeout.
At Carrabba's Italian Grill  buy a $50 gift card online and get a $50 in bonus cards.  Deal is good Friday through Monday, November 25-28, 2016.  Good for gift cards purchased in restaurant only.  Details:  Each purchase of $50 or more in Gift Cards will result in five $10 Bonus Cards with valid dates that vary. Bonus card may not be used for alcohol, tax, gratuity or gift card purchases. Dine-in only.  For more info see Carrabba's Black Friday Special.
The Cheesecake Factory get two Cheesecake Slice cards for every $25 in gift cards.  Beginning Black Friday through Cyber Monday (from Friday, November 25, 2016 to Monday, November 28, 2016), get two Slice of Joy Cards or two eSlice of Joy Cards for every $25 in gift cards or eGift cards purchased in the restaurants or online.
Domino's Pizza has half off all pizzas when you order online today through Sunday, December 4, 2016.
Hooters is selling their first "Endless Craving Cards" starting on Black Friday.  Starting at 3 pm EST and again at 12 pm on Cyber Monday, November 28, Hoovers will offer only 3,000 of the Craving Cards available for $100 each.  The cards can be used for up to $20 every day through the end of the year. Purchase your card at Hooters.com/EndlessCravingCard.  Card balances will reset to $20 value each morning, whether or not it was used in the previous 24 hours.
LongHorn Steakhouse has three online coupons for up to $5 off,  good through Sunday, November 27, 2016. CLICK HERE   for all three LongHorn coupons.  With coupon 1 get $5 off the purchase of two dinner entrees.  With coupon 2 get $3 off the purchase of two adult lunch entrees. With coupon 3 get $5 off an online to-go purchase of two adult entrees.
Long John Silver's has a BOGO coupon for Black Friday weekend.  Buy one 2 piece fish meal or 3 piece chicken meal and get another free.  Good Friday – Sunday, November 25-27, 2016.  CLICK HERE for your Long John Silver's coupon.
Texas Steakhouse buy $50 in gift cards and get $15 in bonus cards. Good for online sales through Cyber Monday only at: Texas Steakhouse Gift Cards.
More Coupons and Discounts for November:
Applebee's is offering another Buy one entree get another Free deal good every day for a limited time. All entrees priced at $12.49 and get another free.  No coupon required; good for dine-in only.

Chili's: new $10 "3 For Me" dinner special with a salad, Fajitas, and Molten Cake for $10. No coupon required, simply ask your server for the "3 for Me Fajitas Special". Good at participating Chili's.  Not valid with any other discounts or the My Chili's Rewards points.

Chuck E. Cheese: has new coupons for $1 off a salad bar or lunch buffet, $2 off a pizza, and other discounts, good through November 28, 2016.
Hungry Howie's: Get 3 Cheeser Howie Bread for just 33 cents with any online order of $12 or more now through December 4, 2016. Use coupon promo code 33CHEEZ and order online or through the Hungry Howie's app to get the deal. Offer available only for online orders. Order online now at: https://hungryhowies.hungerrush.com/
McDonald's: Get $1 off on fries, free beverages and other deals when you use the McDonald's app today through November 27, 2016 or later.
Outback Steakhouse: has announced the return of their annual Steak & Unlimited Shrimp special starting at $15.99.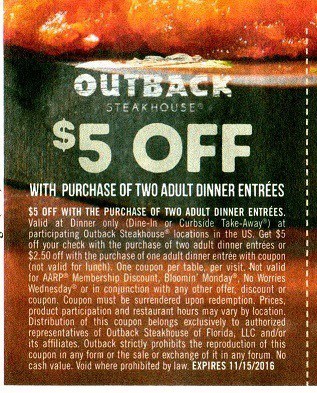 Panda Express: has a promo code for $3 off an online order good through January 2, 2017. Enter promo code FAST during checkout at Panda Express Online or in the Panda Express app to get $3 off an order totaling $5 or more.
Starbucks: is having a weekly special every Monday starting November 21 and ending on December 5, 2016. No coupon required. The "Merry Monday" specials run every Monday from 2 pm to closing as follows:
November 21, 2016: Spend $15 or more in store and get 30 Bonus Stars on top of the Stars you'd normally get.
November 28, 2016: Spend $20 or more in store and get 40 Bonus Stars on top of the Stars you'd normally get.
December 5, 2016: Get half off any Frappuccino® blended beverage in store.
Steak 'n Shake: has coupons for a BOGO on their shakes, including their Holiday shakes like Egg Nog and Peppermint Chocolate Chip.
Subway: has a 6-inch sub of the day for $3.50 each. You can also upgrade to a combo with chips and a drink for $5. The day of the week sub specials are as follows:
Monday – Sweet Onion Chicken Teriyaki
Tuesday – Oven Roasted Chicken
Wednesday – Turkey Breast
Thursday – Italian B.M.T.
Friday – Tuna
Saturday – Black Forest Ham
Sunday – Meatball Marinara.

Wendy's: has Frosty Key Tags on sale for the Holidays; buy one for $2 and get a free Jr. Frosty with every purchase for all of 2017.
The following two tabs change content below.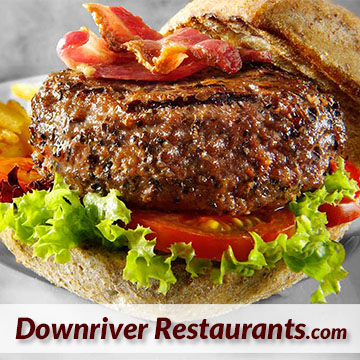 Downriver Restaurants Staff constantly search for the latest restaurant news and bring you the best restaurant and fast food coupons, discounts and deals you can use each and every month. Visit our COUPONS section to see what we have found. You can also follow Downriver Restaurants on social media for more exciting news and discount opportunities for the downriver community.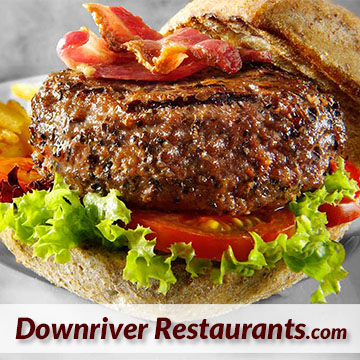 Latest posts by Editorial Staff (see all)
Coupons Discounts News Specials fast food coupons for November, November coupons, November dining discounts, November fast food discounts, restaurant coupons for November, restaurant discounts and coupons