Olive Garden recently updated their Calamari with a new recipe.
And it's now served with the chain's new Spicy Ranch. Initially, Calamari was served with Parmesan peppercorn sauce, but then they began serving it with ranch dipping sauce in 2017.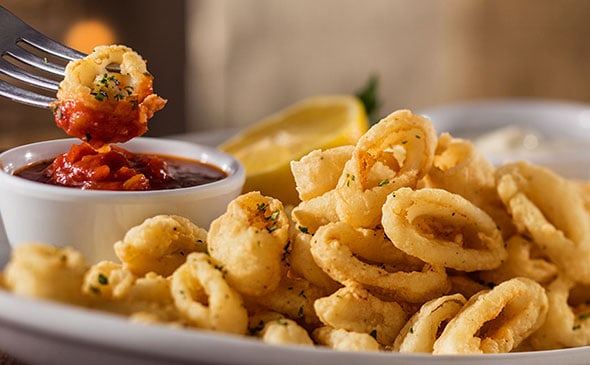 The new Calamari recipe features tender calamari, lightly breaded and fried, and served with marinara and new spicy ranch sauce for dipping.
The Calamari is currently priced at $11.79 at most Olive Garden locations, although prices may vary depending on where you live.
The new Calamari recipe is available now. Take a look below on how delicious this looks: Yum!
It's time to plan your lunch or dinner now at Olive Garden so you can taste the scrumptious Calamari.
If you are a calorie-counter or want to see some nutritional facts on the Calamari meal, here you go:
Olive Garden Calamari Nutrition Facts
670 calories
380 calories from fat
42 grams of fat
35 grams of saturated fat
1600 milligrams of sodium
48 grams of carbs
3 grams of sugar
24 grams of protein
New Spicy Parm Ranch Nutrition Facts
250 calories
240 calories from fat
27 grams of fat
4.5 grams of saturated fat
700 milligrams of sodium
2 grams of carbs
less than 1 gram of sugar
1 gram of protein
Have you tried Calamari with new spicy parm ranch at Olive Garden? Let us know in the comments below.
Source: This post first appeared on The Fast Food Post.