Olive Garden launches Amazing Alfredos, a new limited-time promotion.
Olive Garden has updated us on delicious new deets regarding its Amazing Alfredos menu and we are so psyched to pass it along.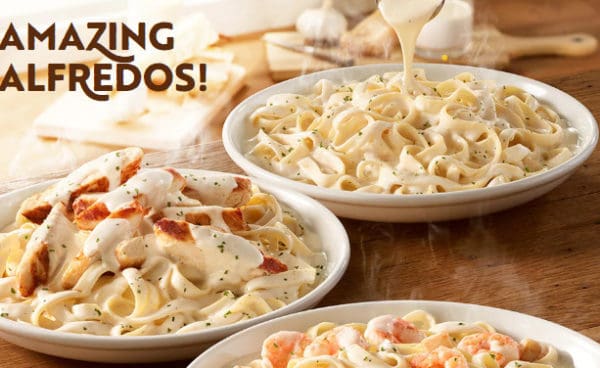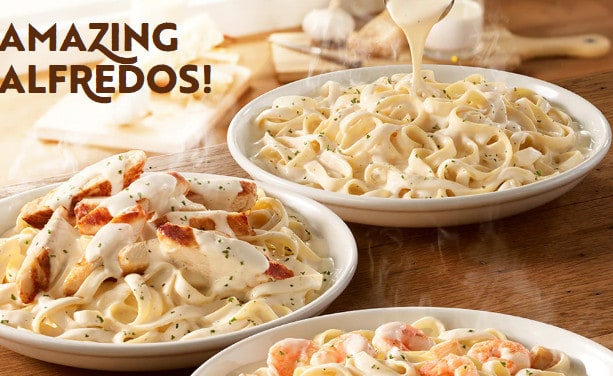 While we are dealing with how the pandemic affects our lives, loading up on comfort foods always seems to keep us happy. Or at least satisfied until the next meal.
There's just something revitalizing about a plate full of carbs. And now, Olive Garden is one-upping itself by covering its already cheesy Alfredo pastas with 30% more sauce.
It's their made-from-scratch signature Alfredo sauce available for a wider variety of fan-favorite dishes.
The Amazing Alfredos promo menu includes:
⇒ Chicken Alfredo: Fettuccine pasta, sliced grilled chicken, alfredo sauce and topped with parsley flakes.
⇒ Fettuccine Alfredo: Fettuccine pasta and house-made alfredo sauce.
⇒ Seafood Alfredo: Creamy, homemade fettuccine alfredo tossed with sautéed shrimp and scallops.
⇒ Shrimp Alfredo: Creamy, homemade fettuccine alfredo tossed with sautéed shrimp.
⇒ Steak Alfredo: A grilled 6-oz sirloin topped with garlic herb butter and served with fettuccine alfredo.
The brand's signature Alfredo sauce is made in-house daily with a combination of fresh ingredients like butter, cream and parmesan cheese.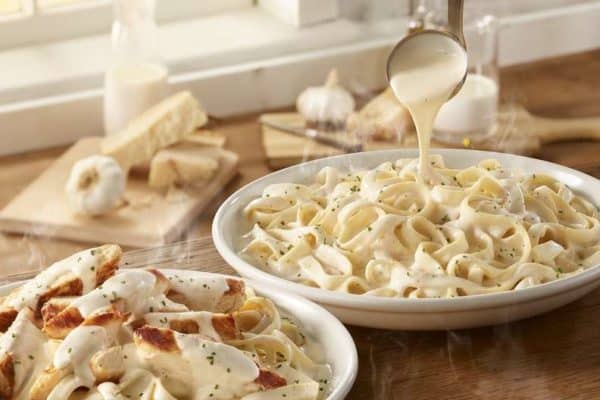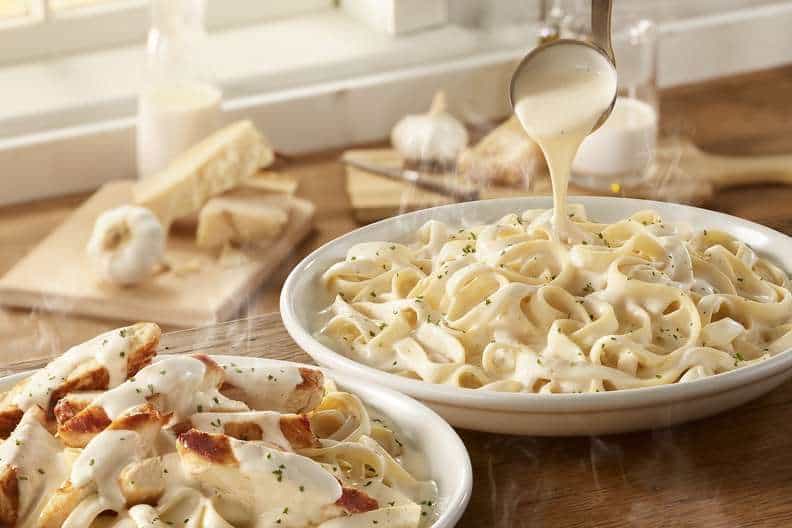 In case you've been living under a rock, the restaurant's Alfredo is the most popular sauce on the entire menu and for a good reason: it's delicious!
This isn't a one-time promo, either. Olive Garden is making the change permanent.
On its website, Olive Garden also boasts that the menu includes "more Alfredo on more of your favorites" and that sure sounds like they'll put MORE Alfredo sauce on your pasta, so time to get loaded up on some good pasta.
We're definitely down for this all Alfredo menu. How about you?
Olive Garden's signature Amazing Alfredos promotion is available at the Southgate Olive Garden location for a limited time or you can safely order carryout anytime.
"The health and safety of our guests and team members has always been our first priority," the company wrote on its site. "While our dining rooms were closed, we took great care to continue serving you with our ToGo offerings. As we welcome you back into our dining rooms, we remain committed to this promise." 
Source: This news was shared from Chew Boom and Thrillist.