Wok-Seared Steak and Shrimp is back on the menu at Panda Express for a limited time.
The entree features Angus sirloin steak, shrimp, snap peas, crisped potatoes, red bell peppers, and onions in a "sweet and savory sauce."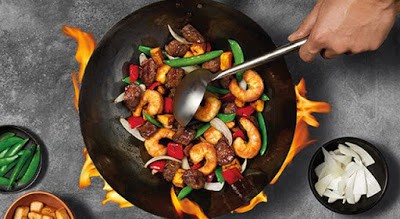 It's being referred to as "new" but seems to be mostly the same as the previous version save for maybe the sauce. The previous sauce was described as a "Chinese-inspired steak sauce" that featured the flavors of soy sauce, fermented chili, ginger, and garlic.
Wok-Seared Steak & Shrimp was first introduced by Panda Express in 2018. Like the chain's other steak and shrimp entrees, Wok-Seared Steak & Shrimp carries their "premium" pricing, which means it'll cost you $1.25 more in a bowl or on a plate.
Visit your favorite downriver Panda Express now and get your Wok on!
Source: News about Panda Express Wok-Seared Steak And Shrimp was shared from Brand Eating.