Make way for the special new Mozzarella Poppers Pizza at Pizza Hut!
Your pizza of choice will now be complete with 16 Mozzarella Poppers plopped right into the crust.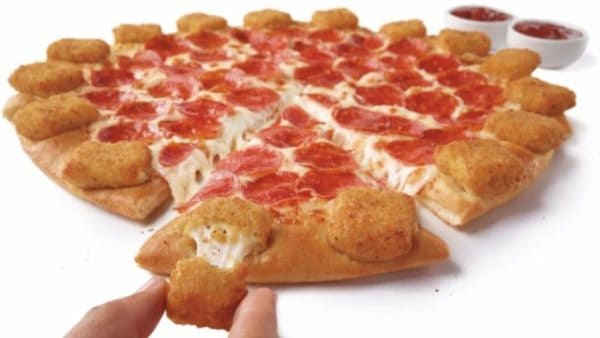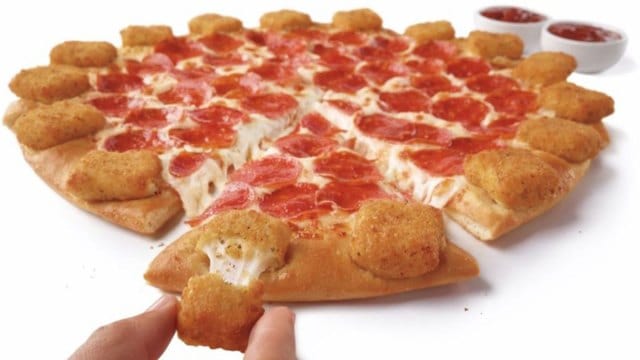 Pop it like it's hot.
There are some people who will argue the crust is the very best part of the pizza. Now, before you roll your eyes or come to battle with a clever rebuttal, you should be warned that these crust fans may be onto something. Pizza Hut has recently given this kind of pizza-eater a reason to celebrate with its brand new pizza pie: Mozzarella Poppers Pizza.
Pizza Hut just announced that it has launched its cheesiest pizza yet, the main attraction of which is the crust.
Now, this isn't your standard stuffed crust pizza, which typically wedges a sliver of mozzarella in between the thicker pockets of crust. Instead, Pizza Hut's latest innovation stacks the extra fried cheese on top of the crust, in the form of little fried mozzarella bites.
The pizza, which will come in either standard pepperoni or plain ole' cheese, will have 16 crispy mozzarella-stuffed squares on top of the crust.
With this pizza, you get the main meal and appetizer all in one box. You can either pluck the little poppers off of the crust or sink your teeth into it all at once.
"I know what you're thinking: they put mozzarella bites ON a pizza?" said George Felix, chief marketing officer, Pizza Hut in a statement. "It's true, and that's why you have to try this pizza and app for yourself before it's gone. It's your world…we're just making pizza in it."
There's no guarantee that this special pizza pie will stick around too long. Currently Pizza Hut indicates that it will only be around for a limited time, so it's in your best interest to hit up your local Pizza Hut as soon as possible.
Pop it like it's hot. 'Cause it is. Mozzarella Poppers Pizza is here.
Join our weekly newsletter
so you won't miss a bite…
[mailpoet_form id="1″]