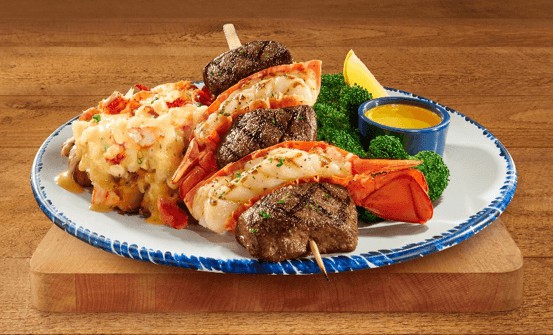 Red Lobster celebrates the return of Lobsterfest by adding three new entrees for 2020
Lobster and Chips, Ultimate Lobsterfest Surf and Turf, and the New England Lobster and Seafood Bake.
Starting at $19.99, this year's full Lobsterfest lineup includes:
New Ultimate Lobsterfest Surf and Turf: A skewer of Maine lobster and filet medallions, wood-grilled and paired with a smashed potato topped with melted cheese, Maine lobster meat and a rich lobster cream sauce. The dish is served with your choice of side.
New New England Lobster and Seafood Bake: Petite Maine lobster tails, split and sautéed with Dungeness crab, jumbo shrimp, mussels, smoked sausage, corn and potato wedges in a garlic white wine sauce.
New Lobster and Chips: A hand-battered, deep-fried petite Maine lobster tail, served with french fries and coleslaw.
Lobster Lover's Dream: A roasted rock lobster tail, butter-poached Maine lobster tail and lobster-and-shrimp linguini Alfredo. Served with your choice of side.
Ultimate Feast: A Maine lobster tail, wild-caught North American snow crab legs, Red Lobster's signature hand-crafted garlic shrimp scampi and Walt's Favorite Shrimp. Served with rice and your choice of side.
Seaport Lobster and Shrimp: A wood-grilled Maine lobster tail, garlic shrimp scampi and a jumbo wood-grilled shrimp skewer. Served with rice and your choice of side.
Creamy Lobster Alfredo: Maine lobster meat tossed with fresh tomatoes in a rich and creamy garlic Alfredo sauce, served on a bed of linguini.
Every Lobsterfest entree also includes unlimited Cheddar Bay Biscuits and a choice of salad.
Fans are also invited to complement their Lobsterfest meal with the New Chilled Lobster Claw and Shrimp Cocktail. 
New Limited-Time Cocktails
New Strawberry Shoreline: Captain Morgan Original Spiced Rum blended with fresh-squeezed lemon juice, strawberry daiquiri mix and ginger ale and served in a collectible new Lighthouse Glass.
New Prickly Pear Margarita: Sauza Gold Tequila, hand-shaken with triple sec, our house mix and prickly pear syrup.
Lobsterfest is available at participating Red Lobster locations nationwide for a limited time.
Source: Chew Boom.