Red Robin is embracing bacon love with its latest promotion.
Bacon lovers have to be super excited to see these new items hit the Red Robin menu.
The Bacon Jammin' Burger sounds like a big-time headliner. This burger consists of a gourmet beef burger patty along with hardwood-smoked bacon strips of course.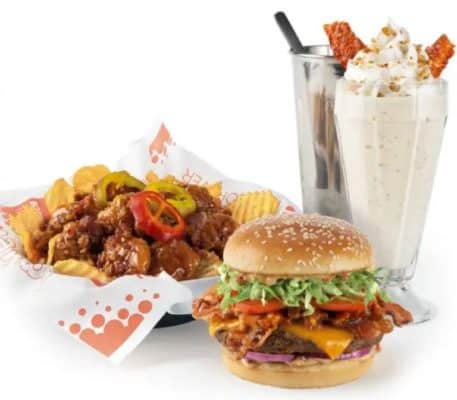 The bacon fun on the burger does not stop there. The burger is also topped with a bacon jam which is always a nice touch, and if this isn't enough bacon flavor for you, there is also a bacon aioli on the burger. Along with the full essence of bacon the burger is also topped with cheddar cheese, red onions, lettuce, and tomatoes all piled into a sesame seed bun.
The Bacon Bash lineup is giving us more than just a burger. If you would rather another type of finger food, you can go for the Bacon Jammin' Wings instead. These wings have a choice of boneless or traditional bone-in wings. The wings are topped with bacon jam, bacon crumbles, cherry peppers, and BBQ brown sugar glaze. The wings which are served on a bed of Yukon kettle chips sound like they could give Buffalo Wild Wings or Wing Stop a run for their money.
If the wings and/or burger hasn't provided you with enough bacon for your meal, you can finish everything off with the new Caramel & Cookie Crumb Milkshake. This dessert dream features soft-serve ice cream that is blended with milk, oatmeal cookie crumbs, and caramel.
The oatmeal cookie crumbs are a nice touch instead of the usual chocolate chip or Oreo cookie that you find in most shakes. The shake is topped with whipped cream and Red Robin is giving you just a little bit more bacon. You also get candied bacon for dipping. There is also a kids version of the milkshake as a smaller portion.
Clearly, Red Robin is not playing around with its new Bacon Bash lineup. There are some seriously delicious new menu items that you just have to sink your teeth into.
The Bacon Bash lineup is available at your downriver Red Robin but only for a limited-time so go now and enjoy the beautiful bacon while you can.
Original source: https://guiltyeats.com/2021/04/21/red-robin-has-new-items-for-serious-bacon-lovers/