Oh Waiter. There's a Pikachu in my soup!
Have you heard the news? Are you hopping on the Pokémon Go bandwagon?
So many people are now heavily addicted to the new Pokémon Go game phenomenon and restaurants should capitalize on the crowds it will bring.
#PokemonGO has achieved something with hyper local advertising for restaurants that even @Foursquare cannot get it right.

— Bernard Leong (@bleongcw) July 14, 2016
So what is Pokémon Go?
It's classified as a virtual reality mobile game, which uses your phone's GPS and camera that turns your actual surroundings into a real life Pokémon scavenger hunt.
Pokémon Go is a free-to-play location-based augmented reality mobile game developed by Niantic and published by The Pokémon Company as part of the Pokémon franchise. It was released worldwide in July 2016 for iOS and Android devices. (Source: Wikipedia)
Basically, Pokémon characters can be found just about anywhere, and requires players to do quite a bit of walking to collect and capture Pokémon at various PokéStops.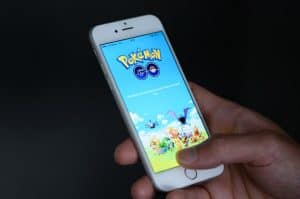 The game will use pre-set location data in order to determine which real world spots are worth visiting. In many cases, these prime locations tend to be heavily-populated areas that will easily bring in extra foot traffic to nearby restaurants, bars, retail stores, and shopping malls.
First, the bad news…
An overwhelming interest for the game has already put Nintendo's servers under serious stress, and several restaurants have suddenly found themselves being invaded by Pokémon seekers.
Now, the good news…
If restaurants can find a way to creatively bring people in the door, you can easily turn the traffic into revenue. The game has become so popular that it's set to surpass Twitter's daily active users. And while doing so, they might just end up at your restaurant to eat.
The game is a cost-effective way to advertise. Within the app, players are allowed to purchase Lure Modules. When deployed at a PokéStop, the lure increases the number of Pokémon that gravitate toward that particular location for 30 minutes, allowing any player in the general vicinity to also benefit, thereby luring in more Poké-hungry customers. If you do the math, a Lure Module would only cost a restaurant about $1.17 per hour to use. That's pretty cheap advertising dollars and well worth the ROI.
WATCH:
How Pokemon Go Helps Local Businesses Lure More Customers
Since the release of Pokemon Go a week ago, the makers of the mobile game app, which has reportedly been downloaded more than 7 million times, are not the only ones profiting. NBC's Jo Ling Kent reveals that small businesses are benefiting from the phenomenon. But not everyone is pleased.
However, the love for the game is NOT felt everywhere.
One restaurant in Lexington, Kentucky posted a "No Pokémon Go Players" sign after a number of users wandered into the restaurant in search of Pokémon: "We had somebody try to walk in the kitchen. We've had people standing right in front of people eating and in places that really are making it difficult for us to get through," employee Megan Martin told the Kentucky news station WKYT.
If your business is being overrun with players, why not just try to make the best of the situation by requiring people to make a purchase if they want to come inside to capture Pokémon: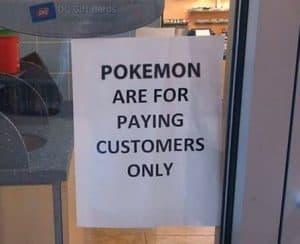 "Pokémon are for paying customers only" — friend snapped this sign. pic.twitter.com/BeHh1aqO78

— Bobby Cherry (@GoBobbo) July 10, 2016
Restaurants that aren't already a location stop inside the game can pay a nominal fee to set bait for Pokémon Go players: Read how Forbes explains, purchasing a  'Lure Module' to activate Pokémon to your location and make them visible to everyone in your vicinity. For just a few bucks a day, restaurants could easily boost foot traffic by luring in nearby players and (hopefully) turning them into paying customers.
The craze has been embraced by churches and playing the game has also helped a Vet with PTSD get out and explore new adventures: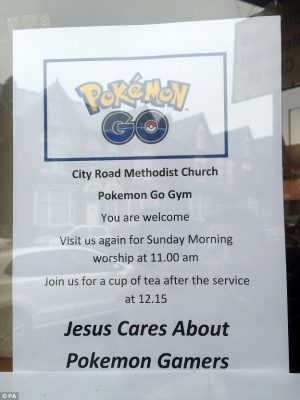 The game is also being praised for getting people off their butts, walking around outside and encouraging face-to-face socialization, with crowds of people that end up converging in public parks and local hangouts while on their quests to capture Pokémon.
So how are restaurants cashing in on the craze?
Easy. While the Pokémon fever continues to get hotter and hotter, restaurants and businesses can find some fun and cost-effective ways to advertise to the rapidly-growing players. But you have to think about your advertising dollars in terms of "lure modules" and "PokéStops."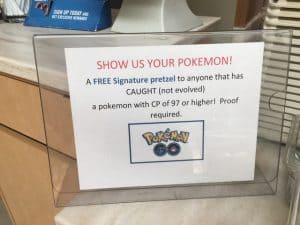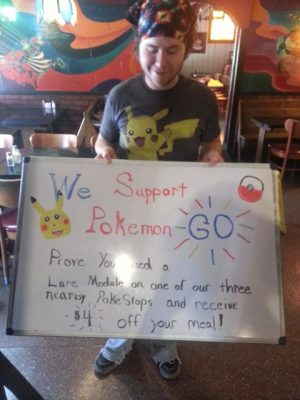 Players have to restock on items like Pokémon eggs and Pokéballs. So while they're searching for these items, they tend to stop in at a local bar to quench their thirst and refuel with food at a nearby eatery, which is an instant boost for local businesses.
Had an interesting chat at a bar/restaurant sitting between two Pokestops how their business increased by 10% since Pokemon GO came out.

— Sarah Anne Williams (@SarahAnneWillia) July 11, 2016
If you plan to join the craze and market your place to the players, just make sure your establishment can handle the crowds. As one San Francisco bar noted, they held a Facebook event for a Pokémon-themed bar crawl that ended up attracting more than 23,000 people.
The crowds can be massive at times, so be prepared.
The #PokemonGo event at Memorial Stadium attracted 1,600 within 30 minutes https://t.co/ZfRpWFnaEu pic.twitter.com/iGIBKbXGFf

— World-Herald Big Red (@OWHbigred) July 14, 2016
Business is booming
One New York pizzeria told the New York Post that $10 worth of lure modules was enough to drive a 75% boost in foot traffic.
Business owners are finding unique and meaningful ways to connect with players and turning them into revenue by offering special deals and discounts catered just to gamers.
Try this…
How about offering gift cards to customers who tweet out a photo of them playing at your restaurant and tagging the business.
This could be the most delicious PokeStop ever. Catch 'em @Outback and share your pics with us. #PokemonGo pic.twitter.com/PK3T9ElNtr

— Outback Steakhouse (@Outback) July 14, 2016
Want more suggestions?
Why don't you offer a free drink or hand out free water bottles, give away free t-shirts, or better yet, create a dedicated charging station, since the game tends to drain the battery while playing.
Gamers will thank you for the hospitality and will likely return to your business again, probably even spread the word to more players and recommend your business.
Those all go in the WIN column.
If your business is nearby to a Pokestop, you probably already know that by the sudden traffic increase. But you should definitely tell the world about it on Social Media. You are bound to see an influx of new visitors to your place.
The CitySen Lounge in Grand Rapids is offering discounts to players, and major restaurants like Applebee's, have also taken to social media asking their followers to retweet about customers catching Pokémon on the premises.
Pokémon Go won't be fizzling out any time soon, so if you own a restaurant, bar or business that is willing to lure in customers with lures, learning how to play the game and joining in the fun will certainly reap the rewards. Its inevitable that when a game is as hot as Pokemon Go is, more people will follow the cool crowd and that means more potential traffic to your business.
"We've had a non-stop flow of people coming in, and sales are through the roof," said one pizza restaurant's general manager. "So we've embraced the craze."
If you turn your place into a viable PokeStop, then you've hit the jackpot. More people means more business. And you should harness the power of the game to your advantage.
If you lure them, they will come. 
Cha ching!