Ever wonder if there are any pet-friendly restaurants in the downriver area that will offer special items for your dog?
Oddly enough, restaurants across the country are starting to indulge dog owners and their pets by offering special canine items.
We found a few popular places that will make sure your precious pup can enjoy a treat while you eat. A few of these eateries even have the special items listed right on the menu, but at other places, you might have to ask for a unique dog treat. Consider it like a secret canine club and now you can join.
We discovered that Foodbeast revealed all of the popular restaurants that have secret menu items dedicated to our four-legged friends. Now Fido can come along with you instead of staying at home. Keep in mind that you might not actually be allowed to bring your dog inside some of these restaurants due to obvious health codes, but any outside patios are open for you and your pup to enjoy a doggie dining date.
Our faithful furry friends make the best eating companions because they can chow down without hesitation, they are always happy to be with us, and they never judge us for ordering that sinfully-delicious calorie-buster burger instead of having a healthy salad.
Your dog deserves a special treat every now and then, so here are a few popular places downriver that will cater to your canine:
Dairy Queen's Pup Cup: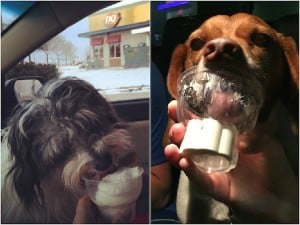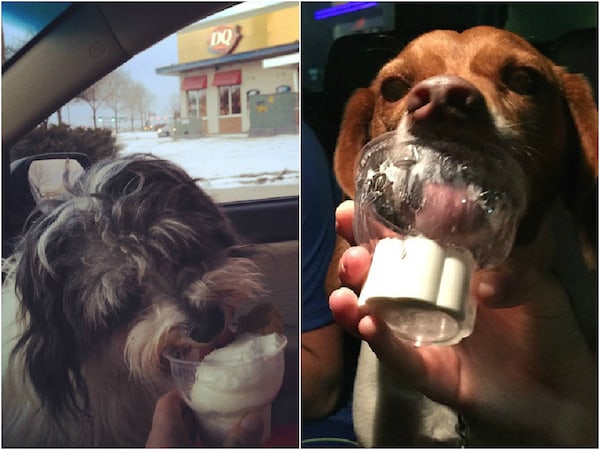 Most dogs will go nuts for their very own Dairy Queen cup. It's just a bit of vanilla soft serve ice cream topped off with a doggie treat, but your dog will be wagging for it.
Sonic Drive-In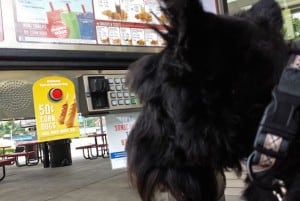 Sonic makes the best pet-friendly restaurant since you never have to go inside. You can drive-up and eat in your car, or step out and relax sitting in their outside dining area. Be sure to mention if you have a pet with you when you first arrive, so they can bring a doggie treat right to your car.
Tim Hortons' Sugar-Free Timbits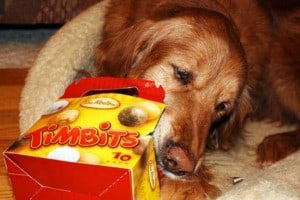 Tim Horton's has their famous tiny Timbits which are perfect for dogs, but there's nothing plain about the taste. Your dog will surely enjoy them just as much as you do.
Starbucks Puppuccino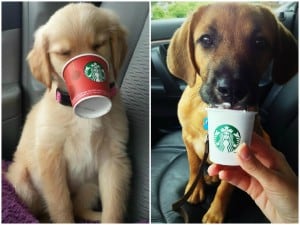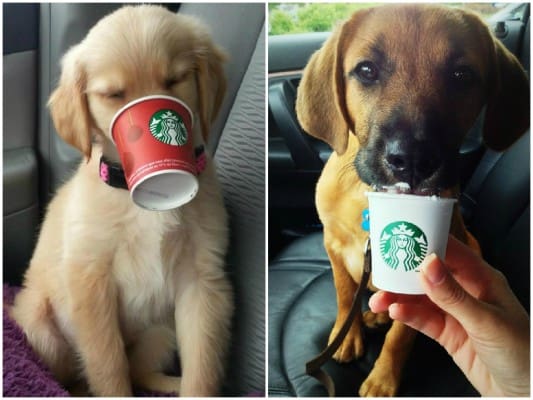 The Puppuccino by Starbucks is a small cup filled with whipped cream perfect for your pooch. Now you don't have to tearfully look into your sad dog's eyes as he watches you sip away. Instead, you can both enjoy Starbucks together.
https://youtu.be/9UyojE4EzcY
Now if a particular restaurant doesn't seem to have any obvious special items for dogs, it never hurts to ask if they can make something special upon request. Remember, however, that dogs might be allergic to certain things, so we always recommend you first check with a vet to make sure any of these treats will not be harmful to your dog.
If you happen to travel with your pet, our friends over at BringFido.com has a map of all the dog-friendly restaurants nationwide you should check out, so you can keep your dog in mind when you plan your trip.
And when you're ready to leave the restaurant, don't forget your doggy bag and check to make sure they didn't leave an extra 'tip'!
Feel free to post a comment below if you find more downriver restaurants that offer a special doggie menu item.