Since Fritos can solve any problem, Sonic is going to bring back both the regular and Jr. versions of their Fritos Chili Cheese Wraps.
No dining room? You want to order and just eat in your car? Sonic has you covered.
Add in the fact that Sonic always seems to be trying new things and new ideas and you have a chain that is ready to adapt to any situation. Of course, that doesn't mean they don't like to bring back past hits to the great enjoyment of the Sonic faithful.
The Fritos Chili Cheese Wrap has returned to Sonic
It is being reported by Chewboom that Sonic has decided to bring back the popular Fritos Chili Cheese Wrap for a limited time.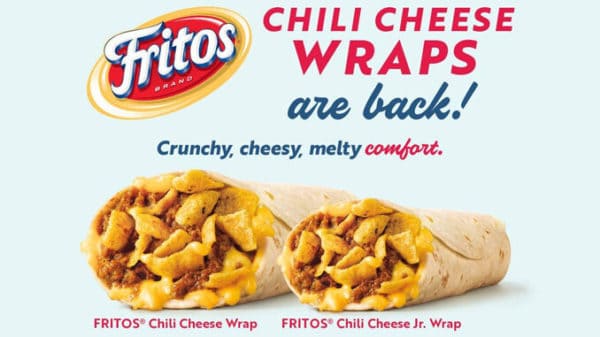 For those that might have forgotten, the wrap is made up of a flour tortilla filled with chili, cheddar cheese sauce and, as the name implies, Fritos corn chips.
But the news doesn't stop there. Sonic is also bringing back the Fritos Chili Cheese Jr. Wrap. Think what you just read above, just on a smaller scale. And the best part? The Fritos Chili Cheese Jr. Wrap is the low, low price of 99-cents.
In addition, some Sonic locations are also bringing back the Fritos Chili Pie, which is basically the same thing as a Fritos Chili Cheese Wrap just without the wrap part. It looks like it's a glorious time to be a Fritos fan.
As mentioned, all this Fritos goodness will only be available for a limited time so if you want to get your Frito on do it soon. This offer won't last forever.
Source: The news about Sonic bringing back their popular Fritos Chili Cheese Wraps was shared from Guilty Eats.