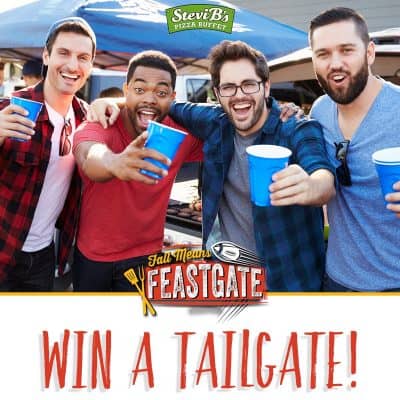 Stevi B's Pizza kicked off football season with new menu items and a Tailgate Giveaway.
A new Feastgate menu is available now through the end of October and the Text-to-Win Program Begins Oct. 1st.
For a chance to win two tickets to the upcoming SEC Championship Game, you can text PIZZA to 737737 between Oct. 1 – Nov. 30th.
Read about the Stevi B's Win a Tailgate Party from their website for rules and entry.
"At its core, Stevi B's is brand centered around quality family time. So, what better way to celebrate the start of football season than with a tailgate-themed limited-time menu complete with a variety of all-American favorites," said Jennifer Rotondo, chief marketing officer for Stevi B's. "We are excited to partner with Dr Pepper, the official sponsor of the SEC Championship Game, and know our local customers will be thrilled about the chance to win a pair of tickets to the highly-watched football game this December."
Feast your heart out this fall with our all star lineup of tailgate worthy pizzas, pastas, and pockets! #pizzafeast pic.twitter.com/OICecni82f

— Stevi B's Pizza (@SteviBs) September 1, 2016
Stevi B's new Feastgate menu includes a variety of options such as:
Chili Mac Baked Pasta: This baked pasta has big noodles to hold the big flavors! The dish starts with new Cavatappi pasta mixed with ground beef, our 'Sloppy Joe' secret sauce and cheddar blend. It's topped with panko breadcrumbs and baked to perfection!
Sloppy Joe Pizza: Yeah…it tastes just like Sloppy Joes and it's delicious! Simple ingredients packed with flavor starting with pizza crust topped with ground beef, our 'Sloppy Joe' secret sauce, and cheddar blend.  It's tart and tangy with a hint of sweet and smoky and definitely hearty.
Beef-N-Cheese Pocket: We continue to capitalize on the success of these little rolls of meat and cheese with a beef-n-cheese pocket. A simple mix of our ground beef and mozzarella wrapped and baked in our delicious dough.
OREO® Cookie Crumble Cake:Playing off the success of our birthday cake pizza, we've created our Oreo Cookie Crumble Cake! Starting with our dough, yellow cake batter and cobbler crumb baked and topped with Oreo pieces, mini chocolate chips and white icing.
Stevi B's has also introduced its new Dinner Dash and Family Feast packages.  This gives families an opportunity to pick up delicious family size meals which will feed 6-8 people and the packages come complete with enough baked pasta to feed everyone in your group, a large garden salad, plenty of breadsticks and more to provide the perfect feast.
You can enter for a chance to win a free catered tailgate party by visiting www.facebook.com/SteviBsPizza all September long. Go now and enter!
The Woodhaven location of Stevi B's is a popular place to take the family out for a night of food and fun. The downriver community has given this restaurant a 5 star review and we would love to hear your feedback for this premium pizza buffet. Stevi B's prides itself on providing a fast, flavorful pizza experience in an always fresh and friendly environment.
Be sure to follow Stevi B's on Facebook and Twitter for more news and special announcements.
The following two tabs change content below.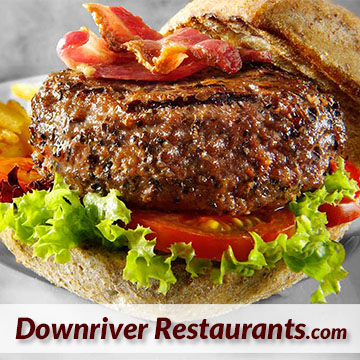 Downriver Restaurants Staff constantly search for the latest restaurant news and bring you the best restaurant and fast food coupons, discounts and deals you can use each and every month. Visit our COUPONS section to see what we have found. You can also follow Downriver Restaurants on social media for more exciting news and discount opportunities for the downriver community.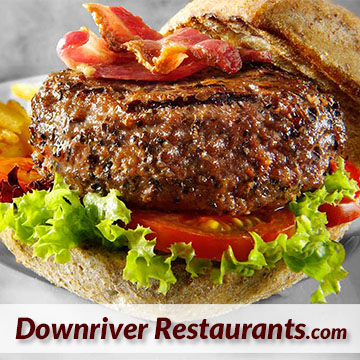 Latest posts by Editorial Staff (see all)
Discounts News Specials Stevi B's giveaway, Stevi B's new pizza and pasta, Stevi Bs win a tailgate party, SteviB's pizza new menu