When the moon looks like a taco on May 4, 2021, Taco Bell will be celebrating the "Taco Moon" by offering fans a free Crunchy Taco on the house.
To take advantage of the Taco Moon giveaway, fans in the US can simply stop by any participating Taco Bell location from 8:00 p.m. to 11:59 p.m. local time for a free Crunchy Taco, no purchase necessary, while supplies last.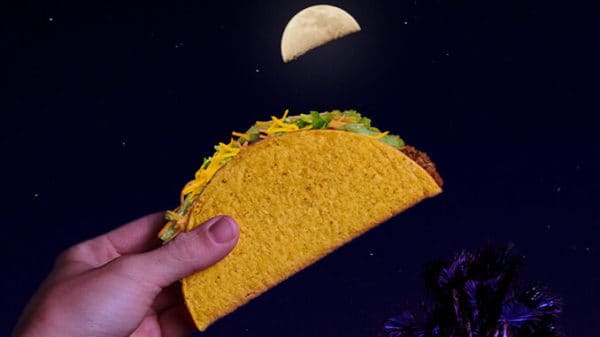 Alternatively, fans can take advantage of the offer all day through the brand's mobile app or online. Just take note that the offer is not available with a delivery order.
Fans in the US who are unable to snag a free taco on May 4 during the redemption window also have the opportunity to score two additional, unique offers all day on May 4 and May 5.
Both offers are fully customizable, available online and for delivery, and Taco Bell Rewards beta members get bonus points on either promo:
Classic $5 Build Your Own Cravings Box: One Crunchy Taco, one Soft Taco, one Doritos Locos Tacos, one Spicy Potato Soft Taco and a Medium fountain drink.
Classic $15 Build Your Own Taco Party Pack: Three Crunchy Tacos, three Soft Tacos, three Doritos Locos Tacos and three Spicy Potato Soft Tacos.
Additionally, the
Taco Moon
event is being offered as part of the brand's
first-ever global campaign
, where participating Taco Bell restaurants in more than 20 international markets including the United Kingdom, Australia, India, Costa Rica, Guatemala and Puerto Rico will promote a special local Taco Moon offer featuring the classic Crunchy Taco.
For example, participating restaurants in Guatemala will be offering a free Crunchy Taco with the purchase of a beverage, while Taco Bell locations in India will be offering the option of a free black bean or seasoned chicken Crunchy Taco.
The post Taco Bell Is Giving Away Crunchy Tacos On May 4, 2021 appeared first on Chew Boom.