Tropical Smoothie kicks off springs 2020 with the introduction of three new menu items, including the Citrus Hawaiian Wrap, Maple-Kissed Potatoes, and Jalapeño Corn.
The Citrus Hawaiian Wrap consists of grilled chicken, red bell pepper, roasted pineapple salsa, romaine lettuce, pickled red onions, and orange garlic citrus sauce served in a toasted wrap.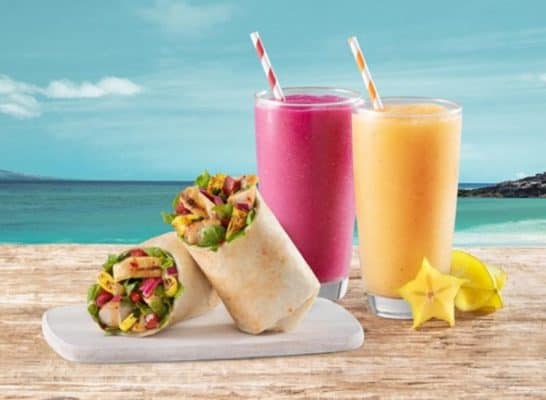 The new Maple-Kissed Sweet Potatoes consist of roasted sweet potatoes covered in a maple glaze.
Jalapeño Corn features chipotle mayo on charred corn with fresh lime.
In addition to the new menu items, Tropical Smoothie is also offering their popular Dragon Fruit Smoothie and the Starfruit Smoothie for a limited time.
The Dragon Fruit Smoothie features a combination of dragon fruit, mango, pineapple, and banana.
The Starfruit Smoothie, on the other hand, features a blend of starfruit, mango, strawberries, and lime.
You can find both the new and returning seasonal items at participating downriver Tropical Smoothie Cafe locations and nationwide through May 25, 2021.
Source: The news about Tropical Smoothie's new Citrus Hawaiian Wrap and Maple-Kissed Potatoes appeared first on The Fast Food Post.