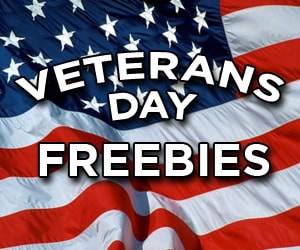 2016 Veterans Day free meals, deals and specials
Veteran's Day is celebrated on the 11th day of November every year.
We compiled a list of several restaurants offering deals for our Veterans to save money or to dine for free.
The following restaurants in the downriver area are offering free and discount specials for all Veterans and Active Duty Military Personnel. *Proof of military service will be required and some restaurants may have participating locations only. We will continually update this list as Veteran's Day approaches. Many restaurants will announce their Veteran's Day specials just days before the holiday, so please check back for updates.
Alphabetical restaurant list for Veterans Day deals…
Applebee's
Select a free meal from a limited menu for Veteran's Day. There will be 7 entrées to choose from. Beverage and gratuity not included.
Bagger Dave's – In honor of those who serve, we're offering a FREE Great American Cheeseburger to our heroes this Friday, November 11th.
Baskin Robins – No freebies, but Baskin-Robbins will donate 11 cents from every ice cream scoop sold to the United Service Organizations (USO).
Ben's Pretzels (Inside the Flat Rock Meijer) – Veterans get a free jumbo pretzel.
Big Bear Lodge
Our small way to thank you is to offer FREE Pizza for Veterans on November 11th.
Bob Evans
Receive your choice of free select breakfast menu items, such as a stack of hotcakes, Fresh Baked Brioche French Toast, Sunrise Breakfast, Country Biscuit Breakfast, or Mini Sampler Breakfast. Along with serving a free meal on Veterans Day, Bob Evans is also offering a 10% discount to all veterans and active duty military from November 12 through December 31, 2016, for dine-in and carryout purchases.
"Bob Evans was a veteran, so we know that America is home of the free because of the brave," said John Fisher, president of Bob Evans Restaurants. "Veterans Day gives us the chance to thank those servicemen and women for all they are doing and have done for this country."
Boston Market – Active duty or retired military will receive one free brownie or cookie with any purchase.
Buffalo Wild Wings
Receive a free small order of traditional or boneless wings and a side of fries. Dine-in only.
Carrabba's
Get a free appetizer at participating locations on Veterans Day.
Chili's
Offering all military veterans past and present their choice of any lunch combo, or your choice of a dinner meal from a select menu. Dine-in only. Beverages and gratuity not included.
Chipotle
Honoring our Vets and Active Duty, Chipotle is offering a  buy-one-get-one (BOGO) promotion from 3:00 p.m. to close of business on Veterans Day.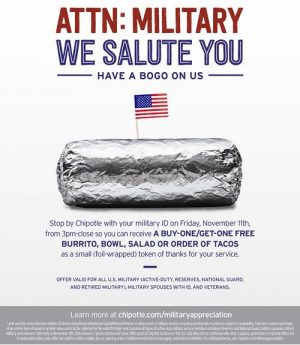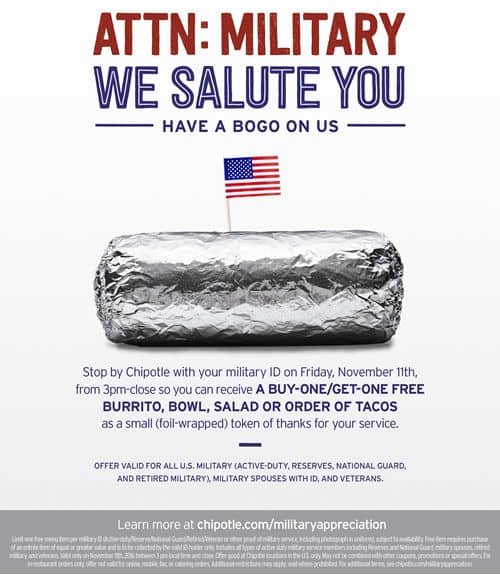 Denny's
Receive a free Build Your Own Grand Slam breakfast from 5 a.m. to Noon.
Edible Arrangements
Local Veterans can receive one FREE, six-count Simply Dipped Mixed Fruit Box™ at 19 participating stores while supplies last. You must visit Edible Arrangements' Facebook page at facebook.com/EdibleArrangementsMetroDetroitGroup and fill out a short form.
Famous Dave's BBQ
All veterans and active duty members will receive One Meat BBQ Salute. You can choose from St. Louis Style Spareribs, Georgia Chopped Pork, Texas Beef Brisket, Country Roasted Chicken, or Barbeque Chicken and is served with a corn bread muffin and choice of one side. Dine In only.
Golden Corral – On November 14th, Golden Corral will serve free dinner buffets with a beverage from 5 pm to 9 pm to any person who is or has served in a US Military, including the National Guard and Reserves.
Hooters
Hooters invites all veterans and current servicemen and women to enjoy a free meal, up to $10.99 in value with any drink purchase, by presenting a military ID or proof of service.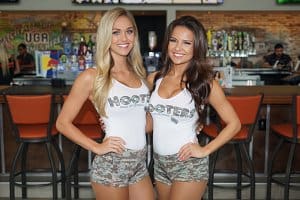 IHOP
Honoring millions of our Veterans and currently serving military personnel by offering them free patriotic pancakes on Veteran's Day. Participating IHOP restaurants throughout the US will be serving a delicious stack of Red, White & Blue pancakes, topped with glazed strawberries, blueberry compote and whipped topping, all FREE for Veterans and Active Duty members on Veteran's Day only, November 11th, from 7 a.m.-7 p.m.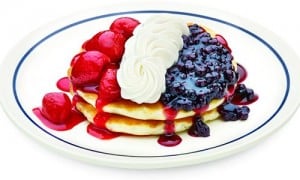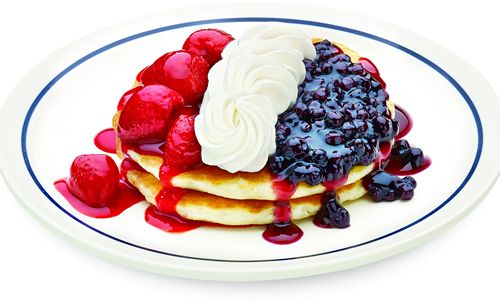 Krispy Kreme
Get a free doughnut and small coffee. Available at participating Krispy Kreme locations.
Little Caesars
Free Crazy $5 HOT-N-READY Lunch combo from 11am-2pm at participating locations.
Logan's Roadhouse – Active and retired military members are invited to enjoy a free meal at any of the 196 company owned Logan's Roadhouse locations.
Longhorn Steakhouse
Receive a complimentary Texas Tonion appetizer and a non-alcoholic beverage.
McDonald's – The McD's on West Rd in Woodhaven is offering all Veterans a free meal.
Mod Pizza – To all who served receive a free MOD pizza or salad.
Olive Garden
Offering a free meal including entrees, freshly baked garlic breadsticks and a choice of unlimited soup or salad.
Outback Steakhouse
Get a free Bloomin' Onion® and a non-alcoholic beverage. There is also a military discount of 15% off your total check from November 12th thru December 31st, valid for military members and their families.
Primanti Brothers – Get a free sandwich from 4pm to close on November 11.
Red Lobster
Service members past and present will receive a complimentary appetizer or dessert from a special menu.
Red Robin
Free Red's Tavern Double and Bottomless Steak Fries for all Red Robin guests with a military ID or proof of service.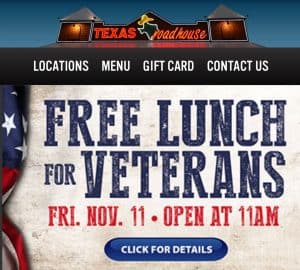 Texas Roadhouse
Free meal to honor our armed forces from 11 am to 2 pm. Choose from one of 10 free meals, plus sides and a soft drink, coffee, or tea. Dine-in only.
T.G.I. Friday's
Free lunch for all current military members and veterans from 11:00 a.m. to 2:00 p.m.
Tubby's Sub Shops
Get a free small Grilled Steak N' Cheese or Tubby's Famous Sub at participating Tubby's locations. Take out only.
White Castle – Receive a free combo meal.
Awaiting updates for 2016:
Many restaurants offer an annual Veterans Day promotion. The following deals were active last year, but have not yet been confirmed participation for 2016. Please contact your favorite place beforehand to verify their special offers. We will continue to update the list, so check back often.
Lone Star Steakhouse
All veterans and active duty military will be eligible for a free appetizer. ID or proof of service required.
Starbucks
Get a free tall brewed coffee for active duty, veterans, and their spouses. Participating stores only.
Tim Hortons
Offering a free donut to all active duty members and veterans with proof of service.
Tips to keep in mind before heading out to a place…
Always check the restaurant's official website first for rules and restrictions.
Be sure to bring proof of military service.
Pay attention to specific dates as some places may extend their specials.
Many of the restaurant deals are for dine in only.
Be sure to check for participating locations only.
It's always best to call ahead if you're not sure about a promotion.
Don't forget to THANK a Veteran for their service!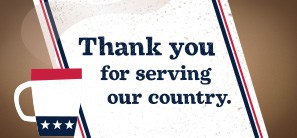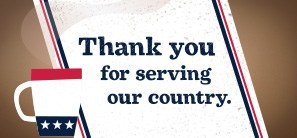 What is Proof of Service?
Almost all places will require Veterans and Active Duty members to show proof of military service to receive their free offers. Proof includes one of the following: a US Uniformed Services ID Card or Retired Military ID Card, a current Leave and Earnings Statement (LES), Veterans organization card (i.e. American Legion, VFW, etc.), a photograph of yourself in US military uniform, a copy of your official DD214, military dog tags, or simply wear your military uniform for proof.
The restaurant deals shown above were sourced from The Military Wallet and Military Benefits. These two website resources are great for finding specials and benefits exclusively for our military members, past and present.
If you know of any free or special Veterans Day deals not shown above, please leave us a comment below.
You should also check out our National Food Holidays Calendar and take advantage of special offers on these days.
The following two tabs change content below.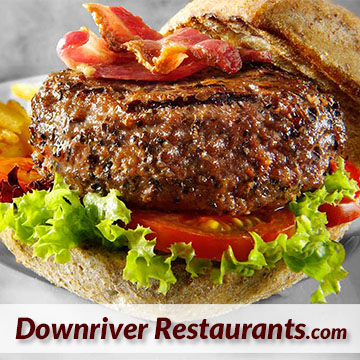 Downriver Restaurants Staff constantly search for the latest restaurant news and bring you the best restaurant and fast food coupons, discounts and deals you can use each and every month. Visit our COUPONS section to see what we have found. You can also follow Downriver Restaurants on social media for more exciting news and discount opportunities for the downriver community.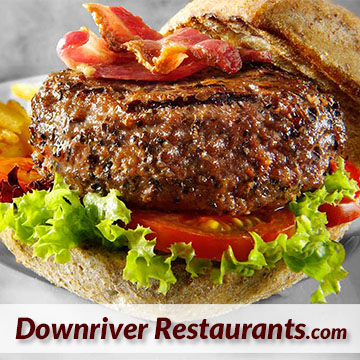 Latest posts by Editorial Staff (see all)
Freebies Holidays Specials downriver restaurants veterans day deals, free restaurant deals for veterans, military restaurant deals, military restaurant specials, veterans day deals for military, veterans day discounts, veterans day free meals, veterans restaurant specials