Veterans Day free meals, deals and specials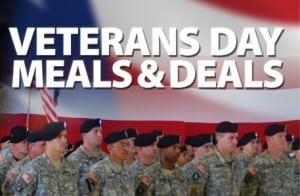 Veteran's Day is celebrated on the 11th day of November every year.
We compiled a list of several restaurants offering deals for our Veterans to save money or to dine for free.
The following restaurants in the downriver area are offering free and discount specials for all Veterans and Active Duty Military Personnel.
*Proof of military service will be required and some restaurants may have participating locations only. We will continually update this list as Veteran's Day approaches.
Many restaurants will announce their Veteran's Day specials just days before the holiday, so please check back for updates.
Alphabetical restaurant list for Veterans Day deals…
Applebee's
Select a free meal from a limited menu for Veteran's Day. There will be 7 entrées to choose from. Beverage and gratuity not included.
Baskin Robins – No freebies, but Baskin-Robbins will donate 11 cents from every ice cream scoop sold to the United Service Organizations (USO).
Ben's Pretzels (Inside the Flat Rock Meijer) – Veterans get a free jumbo pretzel.
Big Bear Lodge
Our small way to thank you is to offer FREE Pizza for Veterans on November 11th.
Biggby Coffee
Free brewed coffee.
BJ's Restaurant and Brewhouse
All current and former military members who dine-in will receive a complimentary entree up to $14.95 plus a free Dr Pepper beverage by presenting a military ID or proof of service.  Offer not valid towards Daily Brewhouse Specials Half Off Pizza.
Bob Evans
Offering a special menu of seven different homestyle favorites available to veterans and active duty military free.
"Bob Evans was a veteran, so we know that America is home of the free because of the brave," said John Fisher, president of Bob Evans Restaurants. "Veterans Day gives us the chance to thank those servicemen and women for all they are doing and have done for this country."
Buffalo Wild Wings
Free order of 10 boneless wings and fries for all past and present armed services members this Veterans Day, November 11. The offer is available for dine-in or takeout and proof of service must be shown for redemption.
Carrabba's
Get a free appetizer at participating locations on Veterans Day and 10% off on all future visits.
Chili's
Complimentary meal. Entree choices include: Chicken Crispers, Margarita Grilled Chicken, Bowl of Chili or Soup & Salad, Chicken Bacon Ranch Quesadillas, Just Bacon Burger, Oldtimer with Cheese, or Cajun Chicken Pasta.
Chipotle
Honoring our Vets and Active Duty, Chipotle is offering a  Buy-One-Get-One (BOGO) promotion valid on burritos, bowls, salads and taco orders from open to close on Veterans Day.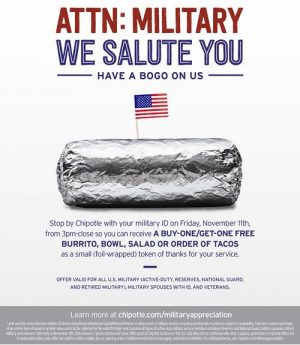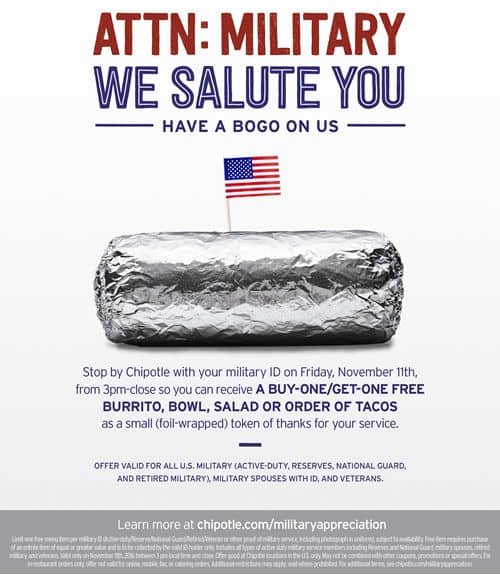 Denny's
Receive a free Build Your Own Grand Slam breakfast from 5 a.m. to Noon.
Dunkin Donuts
All Veterans can receive a free donut of your choice.
Edible Arrangements
Local Veterans can receive one FREE, six-count Simply Dipped Mixed Fruit Box™ at 19 participating stores while supplies last. You must visit Edible Arrangements' Facebook page at facebook.com/EdibleArrangementsMetroDetroitGroup and fill out a short form.
Famous Dave's BBQ
Offering a free Georgia Chopped Pork Sandwich and side to all active and retired military personnel. The promotion will be available for Dine In and To Go orders. When ordering online, guests will choose the sandwich and enter the coupon code "VETERAN" at checkout on famousdaves.com/togo.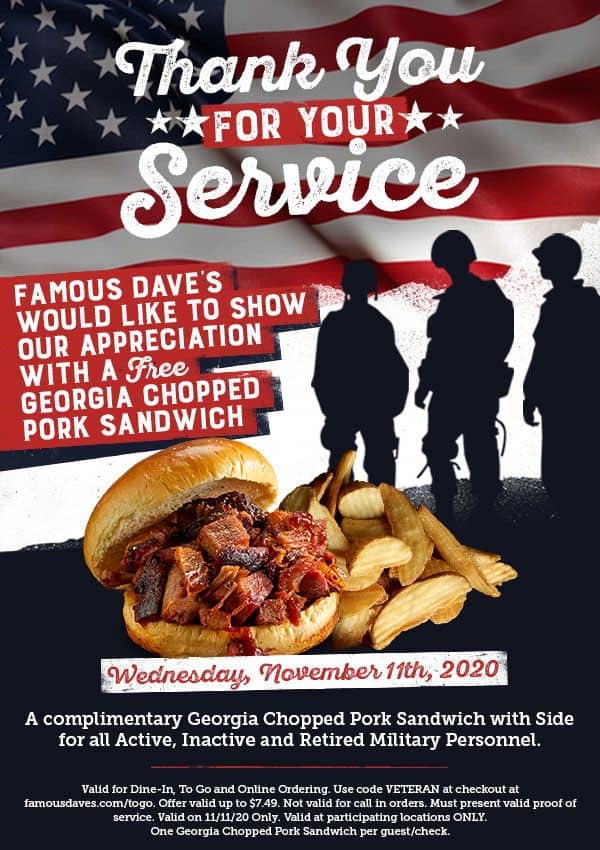 Golden Corral
Golden Corral is celebrating active duty and veterans by handing out a free meal and beverage card between Nov. 1-30, while supplies last. Military personnel can then redeem their card once for lunch or dinner Monday through Thursday from Nov. 1 to May 31.
Hooters
Hooters invites all veterans and current servicemen and women to stop in for 10 free boneless wings with any 10 purchased from Hooters long list of wing styles as a "thank you" for their service.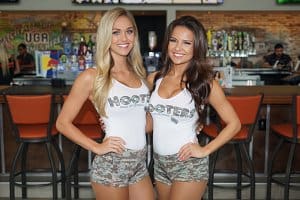 IHOP
Honoring millions of our Veterans and currently serving military personnel by offering them free patriotic pancakes on Veteran's Day. Participating IHOP restaurants throughout the US will be serving a delicious stack of Red, White & Blue pancakes, topped with glazed strawberries, blueberry compote and whipped topping, all FREE for Veterans and Active Duty members on Veteran's Day only, November 11th, from 7 a.m.-7 p.m.

Krispy Kreme
Get a free doughnut and small coffee. Available at participating Krispy Kreme locations.
Little Caesars
On Wednesday, November 11, from 11:00 a.m. to 2:00 p.m., veterans and active military members can receive their free Lunch Combo, which features four slices of Little Caesars popular Detroit-style DEEP!DEEP! Dish pizza with Pepperoni, paired with a 20-ounce Pepsi product.
Logan's Roadhouse – Active and retired military members are invited to enjoy a free meal between 3-6pm from the American Roadhouse menu.
Longhorn Steakhouse
Receive a complimentary Texas Tonion appetizer and a non-alcoholic beverage.
McDonald's – The McD's on West Rd in Woodhaven is offering all Veterans a free meal.
Menchie's Frozen Yogurt
Get a free 6 oz frozen yogurt any time of the day.
Mod Pizza – To all who served receive a free MOD pizza or salad.
Olive Garden
Offering a free meal including entrees, freshly baked garlic breadsticks and a choice of unlimited soup or salad.
Outback Steakhouse
Get 20% off your total check from November 8th thru November 11th.
Primanti Brothers – Get a free sandwich from 4pm to close on November 11.
Red Lobster
Offering dine-in guests a free appetizer or dessert on Wednesday, November 11. Guests may choose their free appetizer or dessert from a special menu that includes the following selections (availability may vary): Lobster and Langostino Pizza, Seafood-Stuffed Mushrooms, Parrot Isle Jumbo Coconut Shrimp, Langostino Lobster-Artichoke-and-Seafood Dip, Crab-Stuffed Shrimp Rangoon, Signature Jumbo Shrimp Cocktail, Mozzarella Cheesesticks, Chocolate Wave, Warm Apple Crostada, or Key Lime Pie.
Red Robin
Military Royalty members will receive a free Tavern burger served with Bottomless Steak Fries at participating restaurants nationwide. Offer valid Thursday, November 12 through Monday, November 30th. The change is in the hope of alleviating crowds on Veterans Day, ensuring the correct seating capacity and keeping employees and veterans safe from COVID-19. This year's program allows Military Royalty members to dine-in or place a to-go order when it's most convenient for them.
Starbucks
Free tall (12-ounce) hot brewed coffee for veterans, military service members and military spouses at participating U.S. Starbucks stores on Nov. 11. Starbucks is also donating 25 cents for every cup of hot brewed coffee sold nationwide on Nov. 11 to be divided evenly between Team Red, White & Blue and Headstrong to support the mental health and the well being of military communities.
Texas Roadhouse
Free meal to honor our armed forces from 11 am to 4 pm. Choose from one of 10 free meals, plus sides and a soft drink, coffee, or tea. Dine-in only.
Twin Peaks
Free menu items offered are chicken tenders, Carolina pulled port sandwich, cheeseburger and The Wedge.
Wendy's
Offering a free small breakfast combo for veterans and active duty, retired and reserve military personnel with valid ID on Veterans Day.
White Castle – Receive a free combo meal.
Unconfirmed places below so please ask:
Many restaurants offer an annual Veterans Day promotion. The following deals were active last year, but have not yet been confirmed participation for 2016. Please contact your favorite place beforehand to verify their special offers. We will continue to update the list, so check back often.
Lone Star Steakhouse
All veterans and active duty military will be eligible for a free appetizer. ID or proof of service required.
Tim Hortons
Offering a free donut to all active duty members and veterans with proof of service.
Tips to keep in mind before heading out to a place…
Always check the restaurant's official website first for rules and restrictions.
Be sure to bring proof of military service.
Pay attention to specific dates as some places may extend their specials.
Many of the restaurant deals are for dine in only.
Be sure to check for participating locations only.
It's always best to call ahead if you're not sure about a promotion.
Don't forget to THANK a Veteran for their service!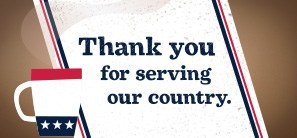 What is Proof of Service?
Almost all places will require Veterans and Active Duty members to show proof of military service to receive their free offers. Proof includes one of the following: a US Uniformed Services ID Card or Retired Military ID Card, a current Leave and Earnings Statement (LES), Veterans organization card (i.e. American Legion, VFW, etc.), a photograph of yourself in US military uniform, a copy of your official DD214, military dog tags, or simply wear your military uniform for proof.
The restaurant deals shown above were sourced from The Military Wallet and Military Benefits. These two website resources are great for finding specials and benefits exclusively for our military members, past and present.
If you know of any free or special Veterans Day deals not shown above, please leave us a comment below.
You should also check out our National Food Holidays Calendar and take advantage of special offers on these days.