Wendy's Has a New Bourbon Bacon Cheeseburger You're Gonna Love.
Wendy's adds the new Bourbon Bacon Cheeseburger as the latest menu item on their Made to Crave platform.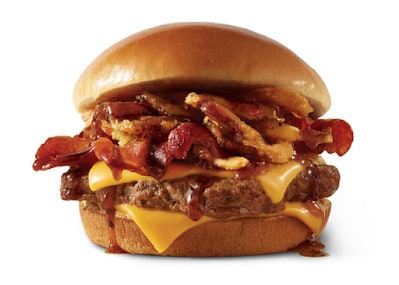 The Bourbon Bacon Cheeseburger is nothing fancy but sure tastes heavenly, with its beef hamburger patty, two slices of American cheese, three pieces of applewood-smoked bacon, Bourbon Bacon sauce, and crispy-fried onions on a toasted premium bun.
You gotta sink your teeth into one of these to understand what I mean by heavenly.
According to the chain, the new burger "pays homage to two classic American icons – cheeseburgers and bourbon."
Nutritional Info for Wendy's Bourbon Bacon Cheeseburger
Calories – 710 (from Fat – 370)
Fat – 41g (Saturated Fat – 16g)
Sodium – 1400mg
Carbs – 51g (Sugar – 15g)
Protein – 34g
The suggested price for the Wendy's Bourbon Bacon Cheeseburger is about $5.39 , but may vary by location.
If you grab one now through May 16, 2021, you will get double rewards points when you buy  via the free Wendy's rewards program.
Source: News about Wendy's new Bourbon Bacon Cheeseburger was shared from Brand Eating.