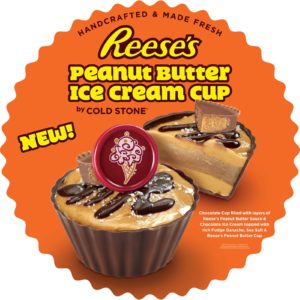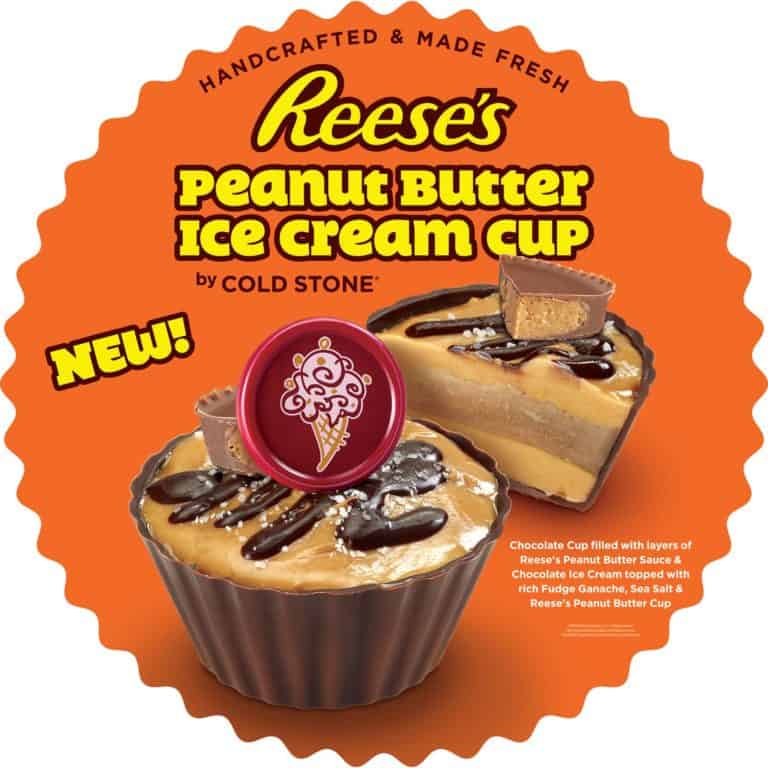 Don't these look scrumptious?
Okay all you Reese's lovers, listen up…
We all love Reese's Peanut Butter Cups and now you can get them as ice cream cups.
Cold Stone Creamery just unveiled the new delicious chocolate ice cream cup treats that are filled with layers of Reese's Peanut Butter Sauce and Chocolate Ice Cream topped with rich Fudge Ganache, Sea Salt and Reese's Peanut Butter Cup chunks.
That's 2, count em' two layers of Reese's peanut butter in a chocolate cup, topped off with a chocolate fudge drizzle and sugar crystals.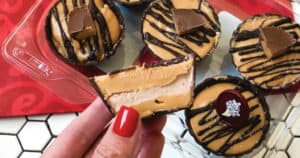 "We're pleased as peanut butter to partner with Reese's on this new product line. Peanut butter and chocolate have always been a dreamy flavor combination, add in ice cream and sea salt and it's more decadent than ever," said Sara Schmillen, vice president of marketing at Kahala Brands™, parent company of Cold Stone Creamery. "The new Reese's Peanut Butter Ice Cream Cups are made fresh in every store and hand-crafted in small batches to ensure the best quality and taste in every cup!"
It Freezes Beautifully…
You can find the new Reese's Peanut Butter Ice Cream Cups in the freezer section of all Cold Stone locations nationwide. There are 6 Cold Stone's downriver in Woodhaven, Allen Park, Wyandotte, Taylor, Southgate and Romulus.
They're sold in a 6-pack plastic container so they won't get crushed in your freezer.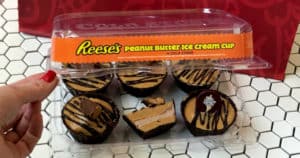 I suggest you stop by one of the Cold Stone locations downriver and stock your freezer full of these little bad boys.
The new peanut butter ice cream cups will help you can stay cool this summer and satisfy your sweet tooth in the process.
Is your mouth watering yet?
Now if you really wanna up your game and over-indulge, 2 months ago Cold Stone revealed an epic Peanut Butter Playground Cake which you could pair with Reese's cookie dough from Pillsbury to make your own double-decker ice cream cake & cookie dough combination that will send you into a sugar coma.
Maybe the better solution is to put one of the Reese's Ice Cream Cup 6 packs on your treadmill and pretend like you're chasing them. But that's no fun, is it?
I think God had the last laugh when he created our taste buds, because they're a curse!!
About Cold Stone Creamery
Cold Stone Creamery® delivers the Ultimate Ice Cream Experience® through a community of franchisees who are passionate about ice cream. The secret recipe for smooth and creamy ice cream is handcrafted fresh daily in each store, and then customized by combining a variety of mix ins on a frozen granite stone. Headquartered in Scottsdale, Arizona, Cold Stone Creamery is owned by parent company Kahala Brands™, one of the fastest growing franchising companies in the world with a portfolio of nearly 30 fast-casual and quick-service restaurant brands with approximately 3,300 locations in 30 countries. The Cold Stone Creamery brand operates nearly 1,500 locations globally in approximately 30 countries worldwide.