Applebee's is celebrating the 2020 holiday season with the return of its popular 2 for $20 Value Menu now featuring the Southwest Steak Bowl.
The fan-favorite menu includes your choice of one full-size appetizer to share, plus any two of the following full-size entrees for 20 bucks: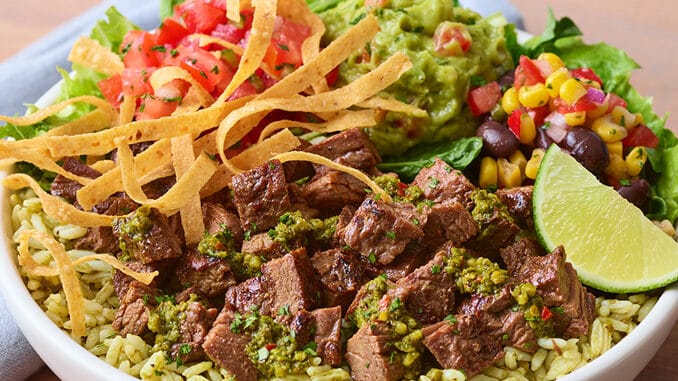 Southwest Steak Bowl: Grilled chipotle lime sirloin steak on mixed greens with cilantro rice, house-made pico de gallo, black bean corn salsa and guacamole. Topped with chimichurri, tortilla strips and a fresh lime wedge.
Classic Bacon Cheeseburger: Handcrafted all-beef patty topped with two slices of American cheese and two strips of Applewood-smoked bacon. Served with lettuce, tomato, onion and pickles on a Brioche bun. Served with classic fries.
Fiesta Lima Chicken: A celebration of flavor, this dish delivers on every level. Grilled chicken glazed with zesty lime sauce and drizzled with tangy Mexi-ranch is smothered with a rich blend of Cheddar cheeses on a bed of crispy tortilla strips. Served with Spanish rice and house-made pico de gallo.
Additionally, Applebee's is also introducing a pair of new signature Mucho cocktails. The new Berry Merry Colada, is a tropical piña colada twist with a strawberry swirl, made with Captain Morgan Spiced Rum and Midori. While the new Reindeer Punch, combines Smirnoff Vodka, Ocean Spray Cranberry Juice and sweet and sour with a dash of cherry.
Applebee's limited-time 2 for $20 Value Menu can be found at participating locations nationwide for dine-in, To Go or delivery.
Source: The news about Applebee's new Southwest Steak Bowl for the Holiday Season appeared first on Chew Boom.