Bob Evans welcomes summer with the launch of the new Double Cheese Pot Roast Dip and new Summer Berry Salad.
The new Double Cheese Pot Roast Dip by Bob Evans features the brand's signature slow-roasted pot roast paired with caramelized onions, melted American cheese and real provolone cheese on grilled sourdough bread, served with homestyle beef gravy for dipping.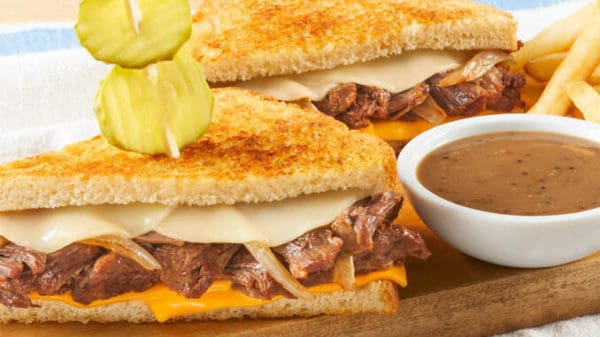 The new Summer Berry Salad consists of vine-ripened strawberries with grilled chicken, pecans and real blue cheese on a bed of fresh greens. The seasonal entree salad is served with lite berry vinaigrette.
While prices may vary, you can expect to pay around $10.29 for the new Double Cheese Pot Roast Dip and one side, while the new Summer Berry Salad typically goes for around $11.19.
Both new items can be found at participating downriver Bob Evans locations for a limited time.
Source: The news about Bob Evans New Double Cheese Pot Roast Dip And Summer Berry Salad appeared first on Chew Boom.