A new Menchie's Frozen Yogurt has just opened.
Up until now, there  were very few frozen yogurt places in the downriver area and this is the first Menchie's in our community.
Now the city of Taylor has the first Menchie's Frozen Yogurt open and serving to quench your frozen fetish.
They serve various flavors of yogurt, such as nonfat, lowfat, regular, tart, sorbet,  no sugar added, low carb, and a low carb/no sugar combo.
The endless choice of toppings are too many to list here, but take a look at some of your choices…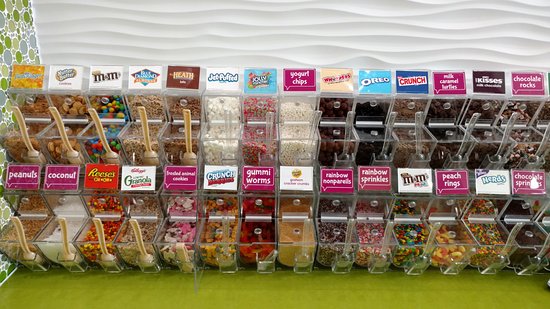 Menchie's also has delicious frozen yogurt cakes that you can customize with your favorite flavor and topping then take it home for the whole family.
See for yourself what a Menchie's  sweet shop looks like and watch a mix master put together her very own frozen masterpiece:
Read about the Menchie's grand opening celebration from the News Herald article here…
http://www.thenewsherald.com/news/first-downriver-location-of-menchie-s-frozen-yogurt-opens-in/article_a724c33c-cb0b-5255-b7de-db8cf484068c.html