McDonald's is officially welcoming back the McRib at participating locations nationwide for a very limited time.
McDonald's McRib sandwich is finally back at locations nationwide after months of anticipation. Not to be dramatic, but this is HUGE.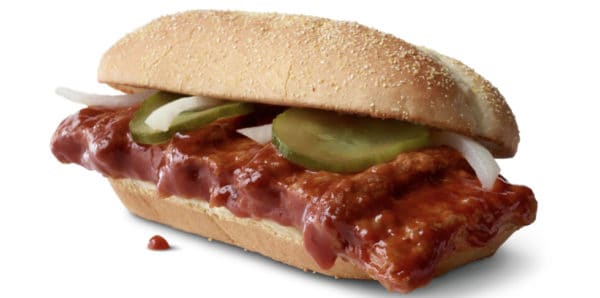 Like many discontinued items at fast food chains, the McRib has popped up for limited periods of time at select locations over the years. This time around, it's making its way to menus nationwide, which is the first time since 2012 it's been that widely available.
This means no matter where you are in the US of A you'll be able to head over to your local McDonald's and get the smoky, tangy sandwich for yourself. Just a reminder: The sandwich includes seasoned boneless pork in barbecue sauce, slivered onions, and pickles on a bun. Getting hungry yet? You know what to do. See ya in the drive-thru line!
Originally introduced in 1982, the McRib evolved to become one of the most anticipated, limited-time menu items offered around the world.
The news about McDonald's McRib wash shared from Delish.