Hardee's Reveals Its Newest Breakfast Menu Items Bound to Please You and Your Wallet.
Calling it the new "Hotcakes Breakfast Sandwich," Hardee's gives the classic sausage and egg breakfast sandwich a tweak by throwing in two hotcakes as the buns, resembling their own golden arches version of a McGriddle.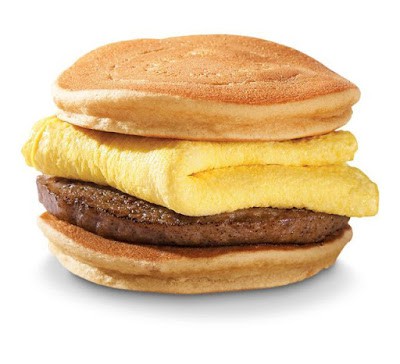 Hardee's brings double trouble at breakfast time with the launch of the new Hot Cakes Breakfast Sandwich and Hot Cakes Breakfast Platter for such a steal.
With prices starting at $3, you can't resist this great deal for a hot Hardee's breakfast.
The new Hot Cakes Breakfast Sandwich features a savory sausage and a fluffy folded egg, sandwiched between two maple hotcakes and served with a side of syrup.
The Hotcakes Breakfast Platter includes three hotcakes, two folded eggs, and a choice of sausage or bacon. You also get syrup and butter on the side.
These new breakfast menu items will be available for a limited time, and prices may vary by location.
So when you roll out of bed, head over to the Woodhaven Hardee's for breakfast and try one then, let us know what you think by dropping your comments below or leave a review on the Hardee's business page.
Will this be just as good or better than the McGriddle?
Share your feedback with the downriver community.
Source:  Information about this story can also be found on BusinessInsider.