Panera Bread is gearing up for summer as it adds two of its most popular seasonal items back to the menu.
Panera brings back two favorite menu items just in time for summer.
The cool refreshing Strawberry Poppyseed Salad with Chicken and the hot and scrumptious Summer Corn Chowder are now back on the menu for your dining pleasure.
The Strawberry Poppyseed Salad features chicken raised without antibiotics, romaine, mandarin oranges and fresh strawberries, blueberries and pineapple, all tossed in the brand's poppyseed dressing and topped with toasted pecan pieces.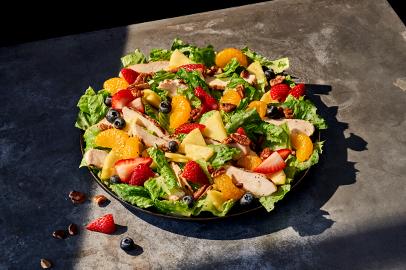 Meanwhile, the Summer Corn Chowder consists of a combination of roasted corn and skin on red potatoes simmered with sweet cream, poblano peppers and cilantro. Served with your choice of one of the following sides: French baguette, apple, and chips. You can also upgrade your side to Tomato Basic Cucumber Salad or Summer Fruit Cup for an additional $1.99 (may vary).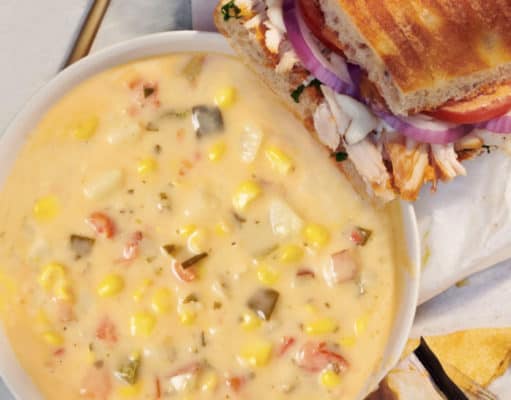 The Strawberry Poppyseed Salad is priced at $7.99 for a half-salad and $11.49 for a whole-size salad, while the Summer Corn Chowder starts at $569 for a cup. Prices may vary with location.
You can find both seasonal menu items at participating Panera Bread locations nationwide for a limited time only.
Strawberry Poppyseed Salad with Chicken Nutrition Facts
360 calories
130 calories from fat
15 grams of fat
2 grams of saturated fat
480 milligrams of sodium
34 grams of carbs
8 grams of fiber
23 grams of sugar
28 grams of protein
Summer Corn Chowder Nutrition Facts
320 calories
180 calories from fat
20 grams of fat
12 grams of saturated fat
1310 milligrams of sodium
34 grams of carbs
3 grams of fiber
8 grams of sugar
5 grams of protein
I bet you can't wait to stop by your local downriver Panera and enjoy the Strawberry Poppyseed Salad or Summer Corn Chowder right now. Why not have one for lunch and the other for dinner.
You can't go wrong with a healthy salad and a tummy-warming hot bowl of soup. They're both delicious!

Source: The post Strawberry Poppyseed Salad And Summer Corn Chowder Return To Panera appeared first on The Fast Food Post.