Denny's is celebrating the Grand Slam and Grads with this BOGO offer.
Are you a breakfast lover?
Do you enjoy it any time of the day or night?
If Denny's is one of your go-to destinations when it comes to a delicious, filling, and downright decadent breakfast, then you need to check out this meal deal that the restaurant chain is offering for the month of June.
And yes, they really are doing this "deal" through the end of June.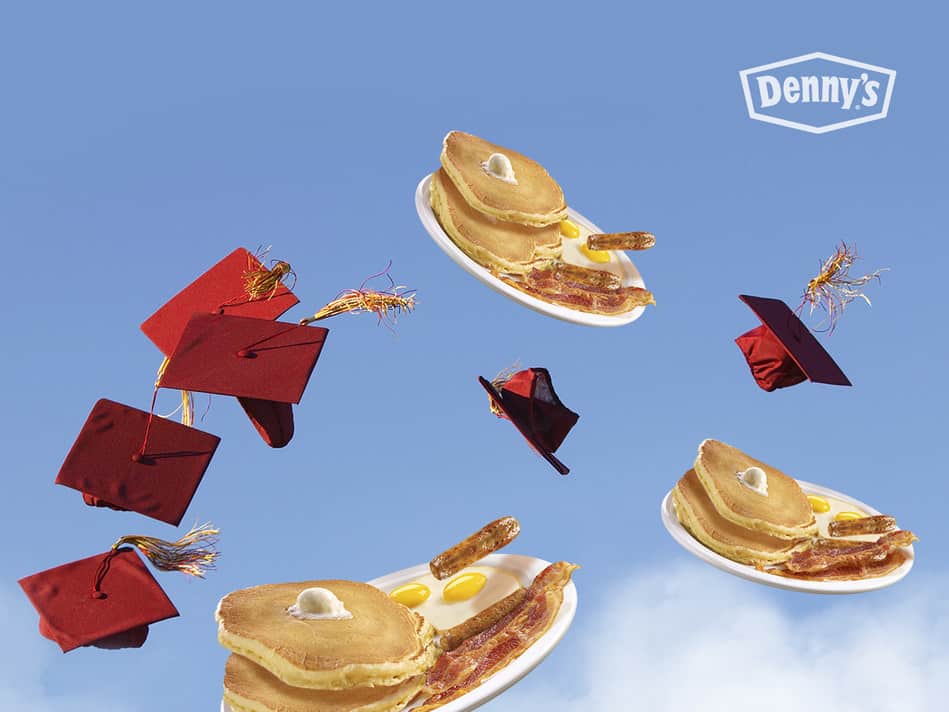 So what exactly is Denny's offering?
In honor of the grads of 2020, Denny's is doing a Buy One, Get One deal on their iconic Grand Slam. Of course, there is a slight catch with this offer, as it is all happening online.
This Denny meal deal is all about placing an online order for two Grand Slams. Once you add them both to your cart, you will then use the offer code, GRADSLAM at checkout to get the price of the second meal removed from your total.
This "Grad Slam" offer means that you will get two orders of the popular Denny's breakfast. And if you are wondering what you get when you order the special "Grad Slam," we have you covered.
For those unfamiliar with what you get when you order a Grand Slam, it comes with:
two fresh eggs cooked the way you want it (think sunnyside up, scrambled, over-easy, etc.)
two crispy strips of bacon
two links of their sausage (I usually swap the bacon for extra sausage.)
two fluffy pancakes
And yes, while Denny's may be using this BOGO deal as a way to celebrate graduates, this offer is open to everyone. Of course, the deal does state that it is only available at participating locations, so you may want to check with your local restaurant before you get too excited.
Are you a fan of Denny's? Do you love their Grand Slam?
Share this BOGO offer with your family and friends. You can also drop your comments below.
Source: This news appeared first on Guilty Eats.